Freedive Trip to Raja Ampat
Price: USD 1300
Duration: 7 days
Location: Raja Ampat Archipelago, West Papua, Indonesia
Upcoming dates: On request
Have you ever heard about Raja Ampat?
Raja Ampat Archipelago located in West Papua Province of Indonesia is a unique place that every freediver dreaming about. This is officially the richest reefs in the world. 75% of all known coral species in the world, 1300 fish species, 13 species of marine mammals, 7 species of sea turtles, 700 species of molluscs, 57 species of marine shrimps. There is no other place on the Earth where freedivers can enjoy such richness of underwater world! Landscapes of Raja Ampat are unique and scenic as well.
Taking a path from Bali island towards the East, crossing 2 time zones, travelers will find themselves on the western tip of New Guinea island, in West Papua province of Indonesia. Words can not really describe the pleasure of what you will have as a freediver during diving there: go out of your bungalow, while walking to the shore put on your mask and snorkel on, put on the fins and you are ready to enjoy the richest underwater jungle. You don't need to go far from your homestay, the home reef is a wonderful spot: sharks, humpheads, several species of rays, gracious mantas, turtles, dugongs, dolphins…all of them enjoying life among coral gardens colored in all known colors.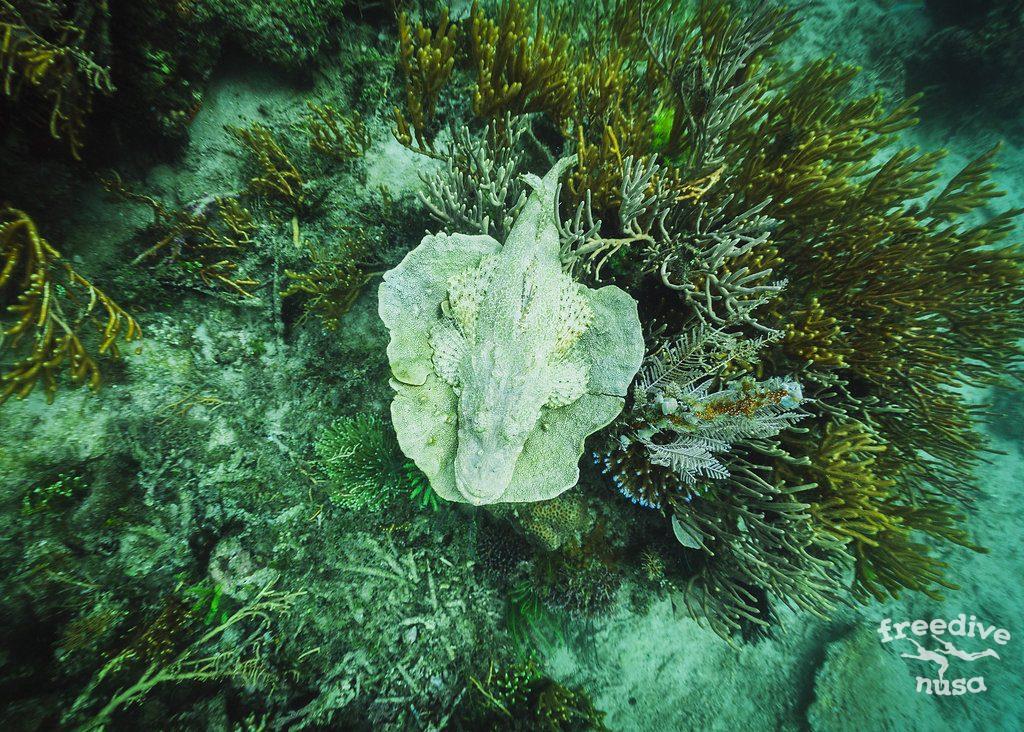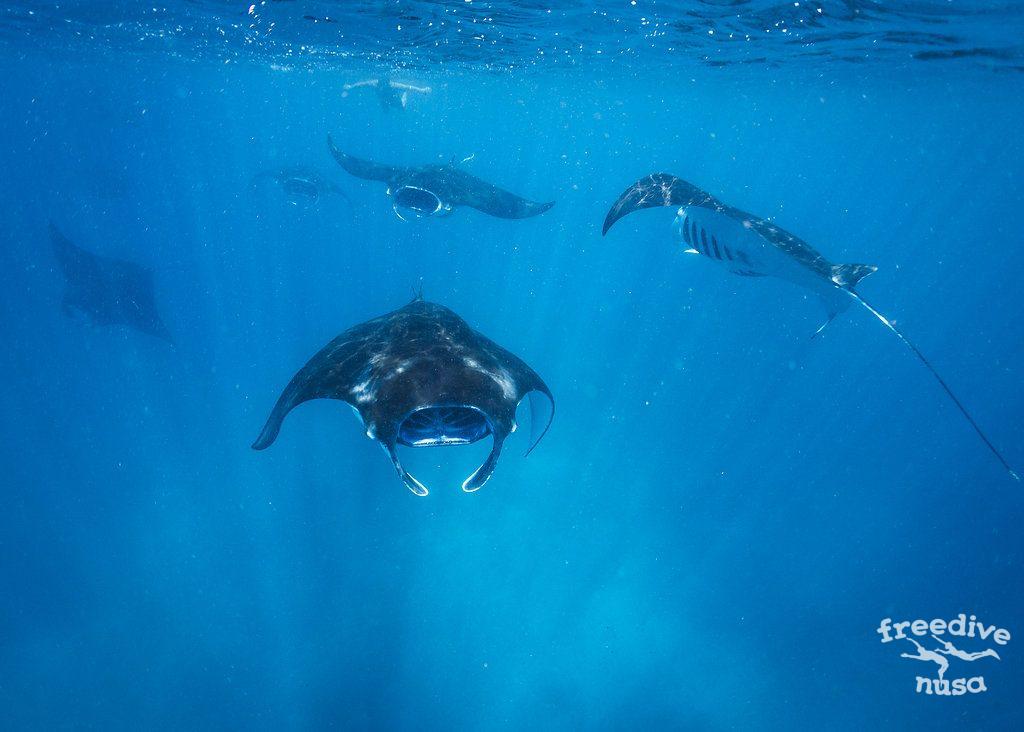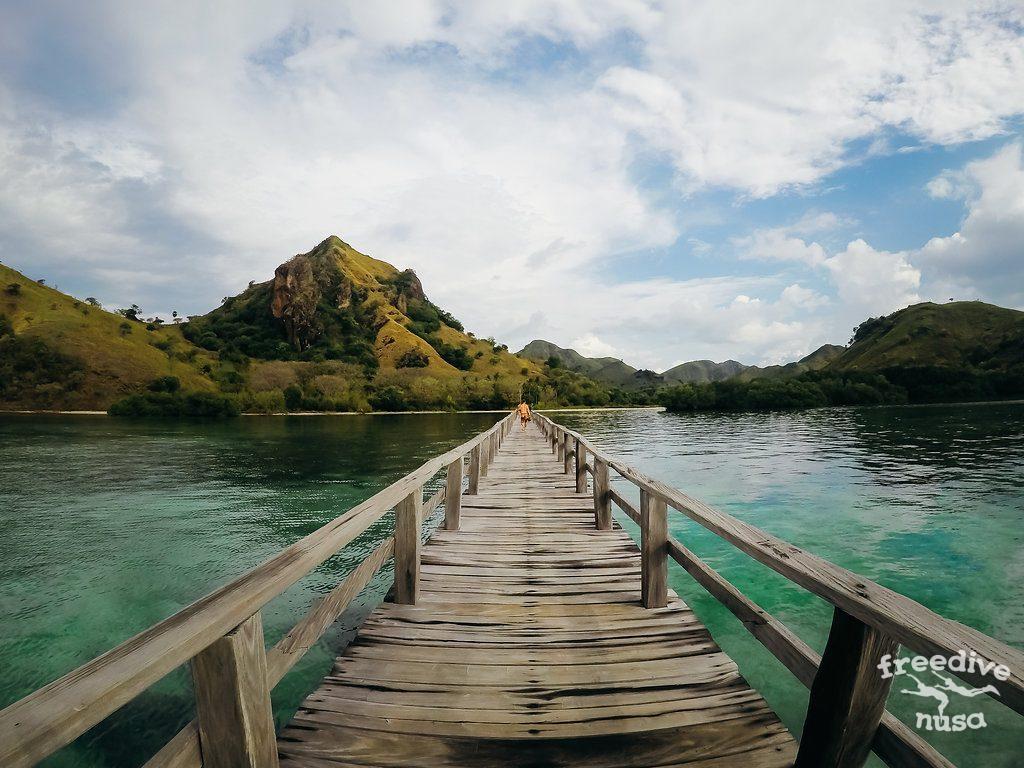 The trip to these islands in the middle of nowhere is unforgettable experience and something that can be told to children and grandchildren.
We will spend one week on the small island called Kri doing some freediving training on the home reef and exploring underwater life of Raja Ampat as well as land wonders of archipelago.
We are happy to welcome experienced freedivers and as well as beginners as training programs will be planned according to your physical form and freediving experience. During the trip we will learn the art of freediving given by experienced instructors for you to use the new knowledges and skills later in some of the best dive sites in the world. You will enjoy being underwater and interacting with thousands of sea creatures that we will see.
No special skills are needed to participate the trip!
Therefore, even if you are not familiar with freediving but curious about your capabilities to naturally hold your breath under water, this trip can become a unique opportunity to learn freediving and building a connection with the water.
Also we invite you to learn to freedive or gain more freediving experience with us on Nusa Penida before the trip!
If you have not tried it before and learn all the basics for freediving in our two day course. If you are already a certified freediver you can join us for training or take advanced courses and better prepare yourself for the trip.
We have an experienced guide in our team, who has spent 5 years in Indonesia, speak fluent Indonesian, knows a lot about social and cultural history of this huge country, and understands locals as people of his own country. We will also make our trip to be a journey into Indonesian culture and local's everyday life.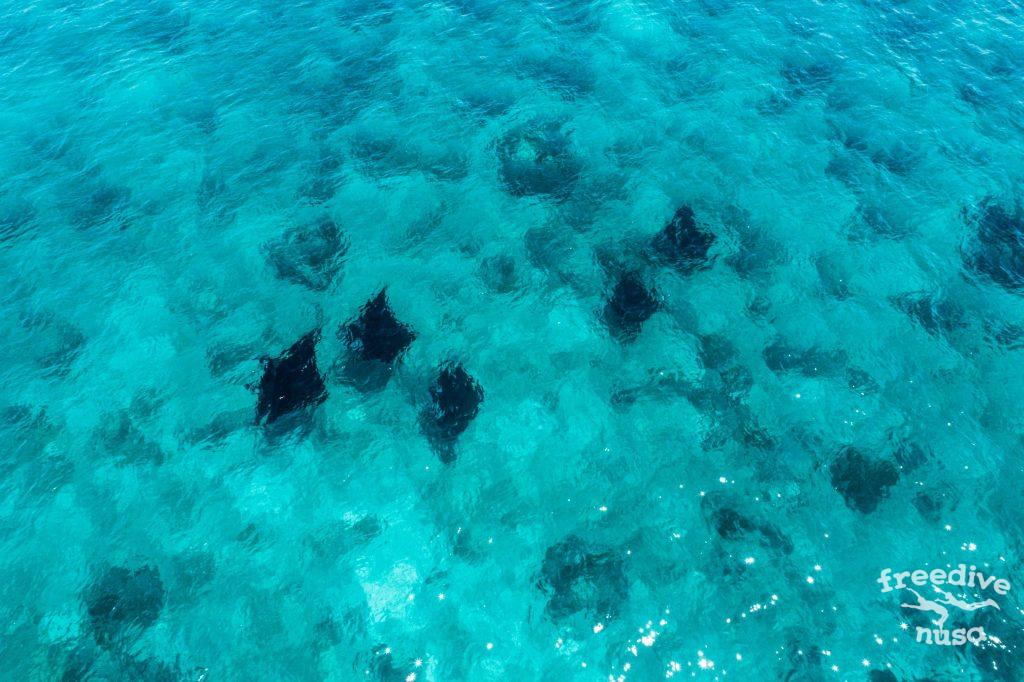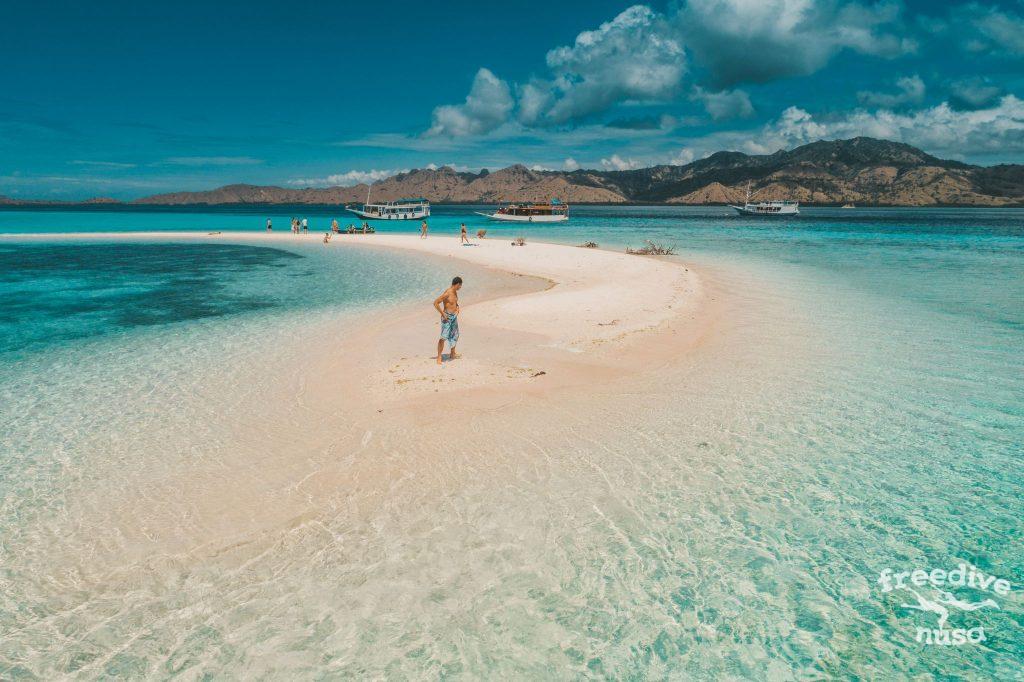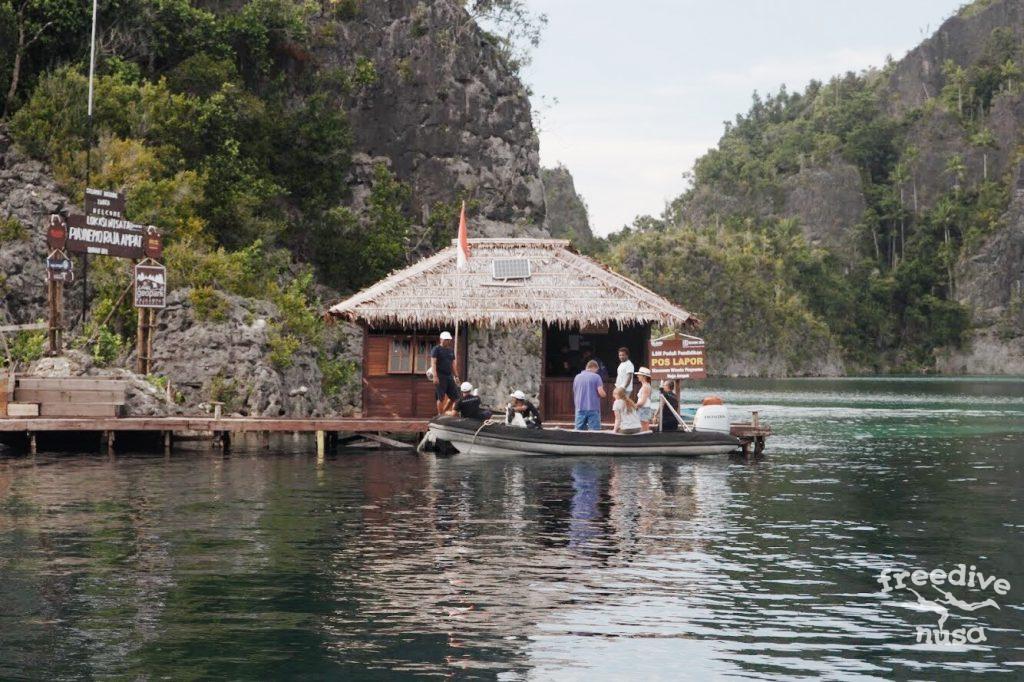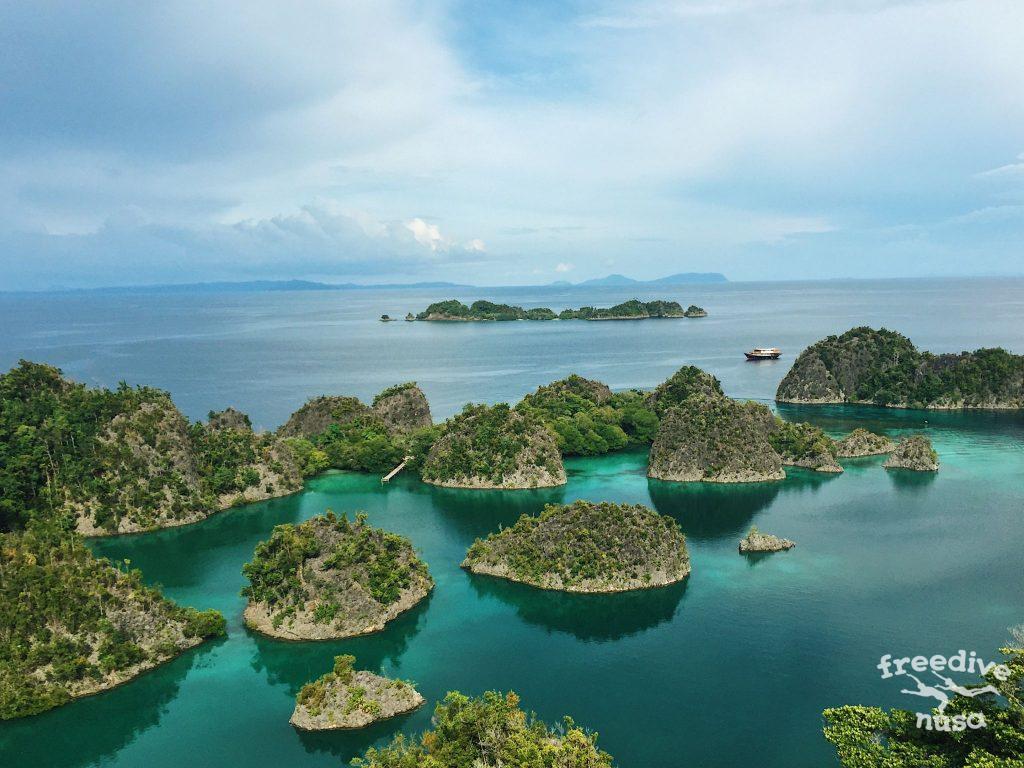 Trip Schedule
Day 1
Afternoon flight from Bali to Makassar and spend an overnight in the airport's hotel before taking one more flight to the city of Sorong.
Day 2
After arrival in Sorong, we will be transferred to the harbour and take a 3 hours journey to our homestay in Kri Island, the place which we will spend the next 7 days.
Our homestay's jetty reaches the distance of 50m out of the shore where 15-20 m depth is already available. Home reefs are located between a couples of hundreds meters long, stretching along the coast. It is a perfect spot for your first discoveries into the underwater world of archipelago.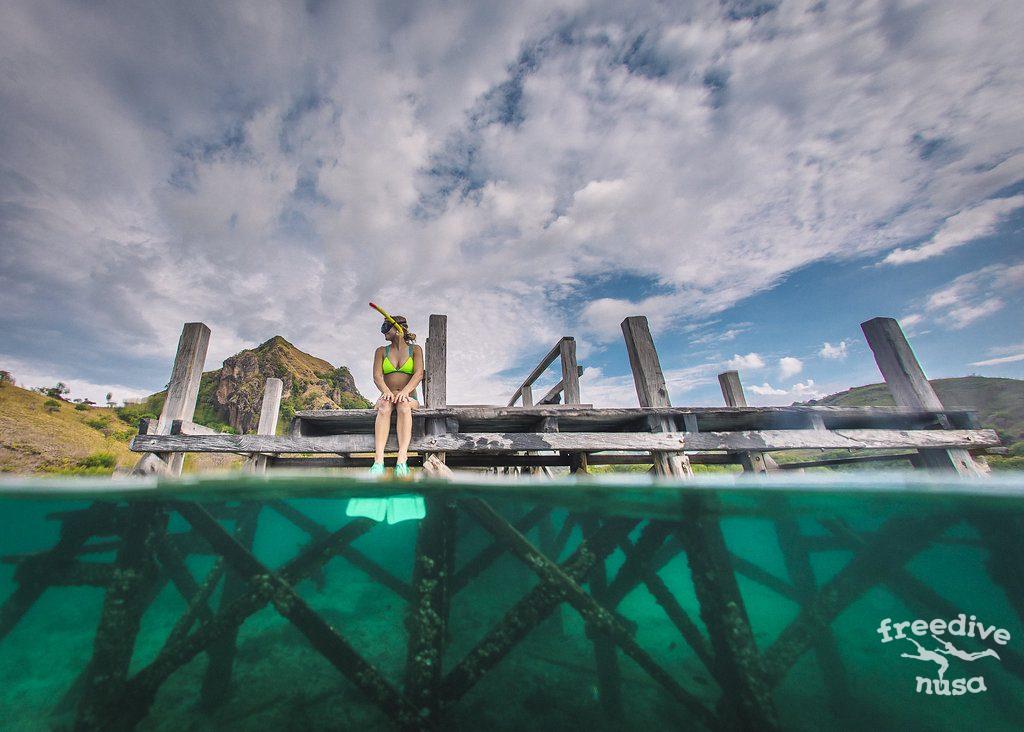 Day 3-4
The first two days, we will go for a freediving open water sessions in the home reefs before having more fun dives around the Kri Island and nearest Mansuar. There are plenty of them around: Chicken reef, Kri Cape, Blue Magic, Sardine reef, Mioskon Reef, and more.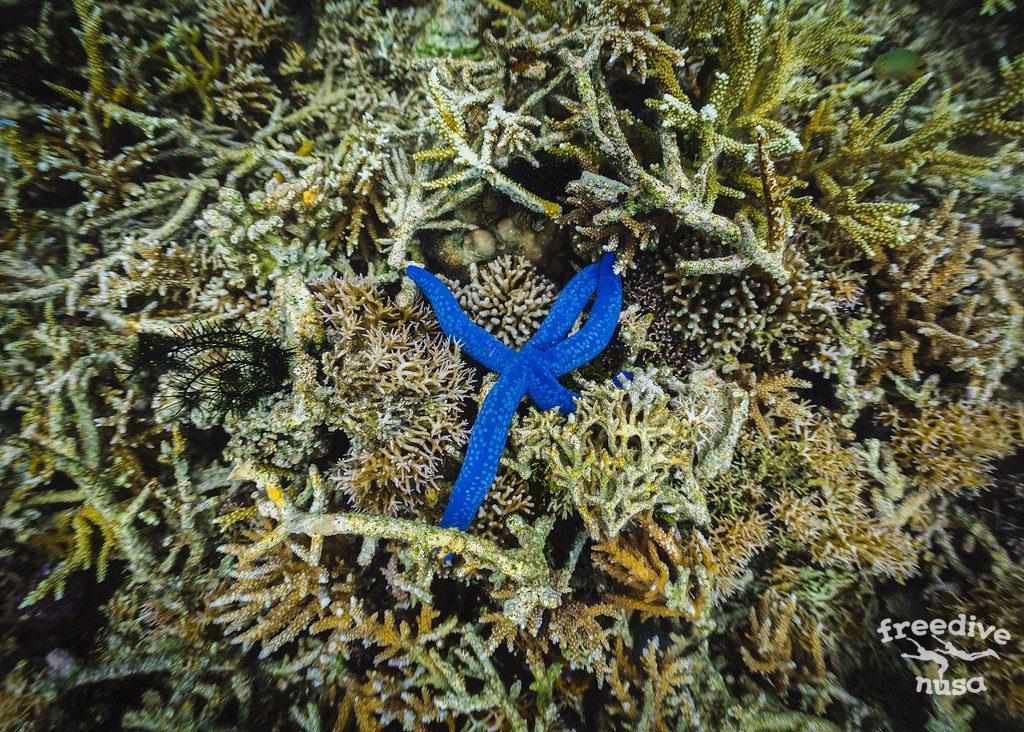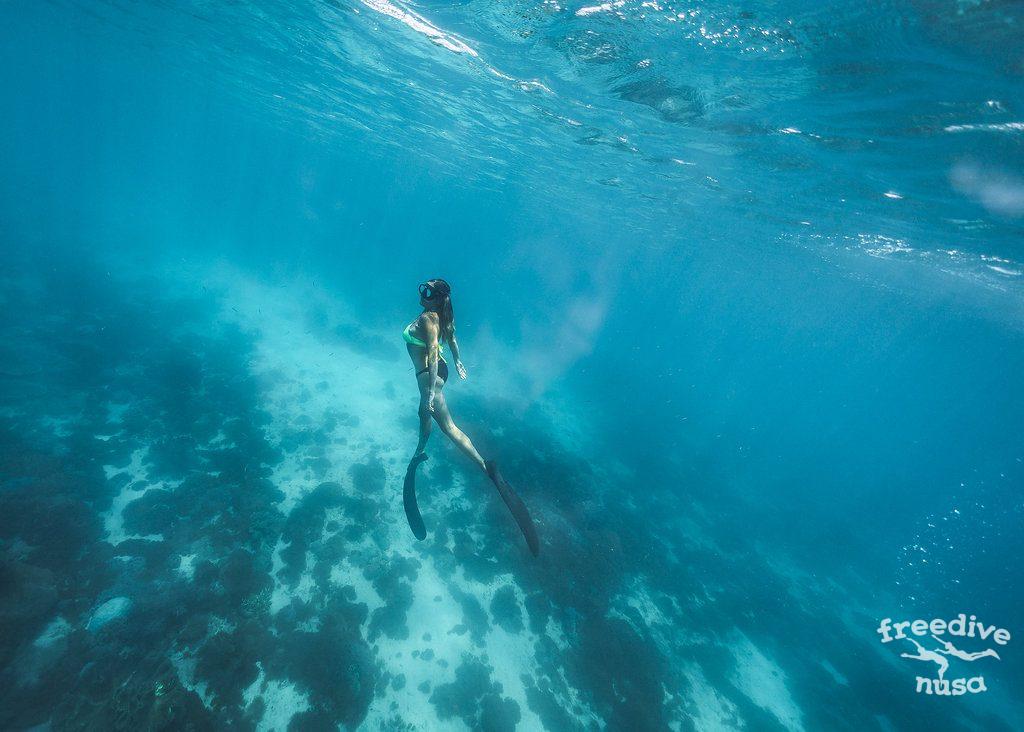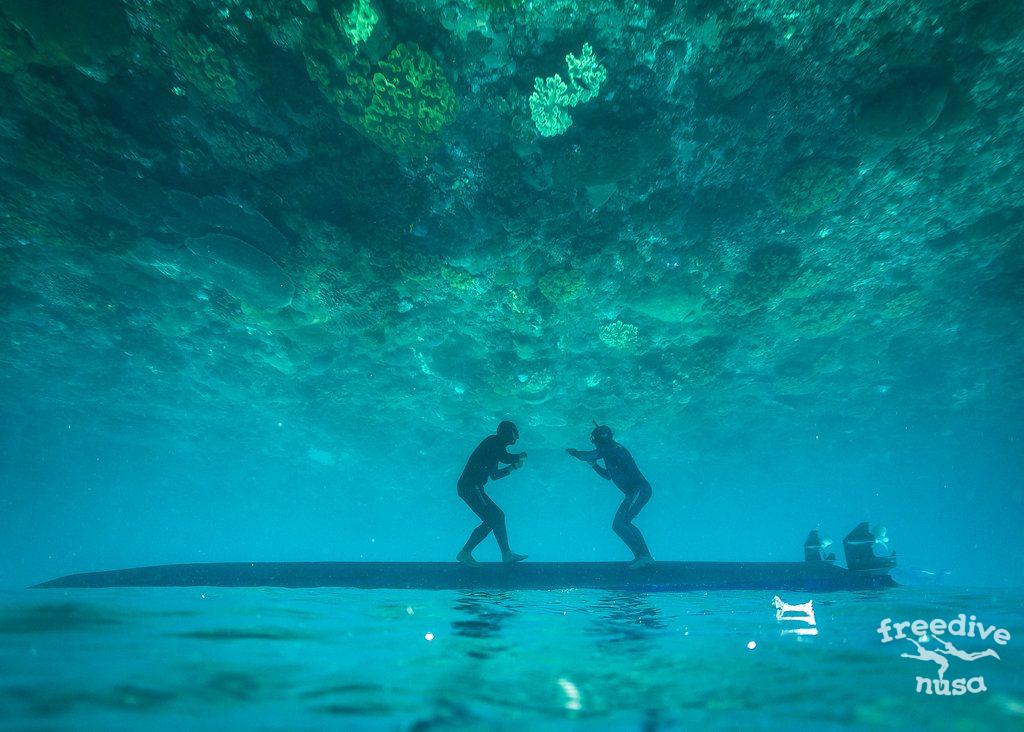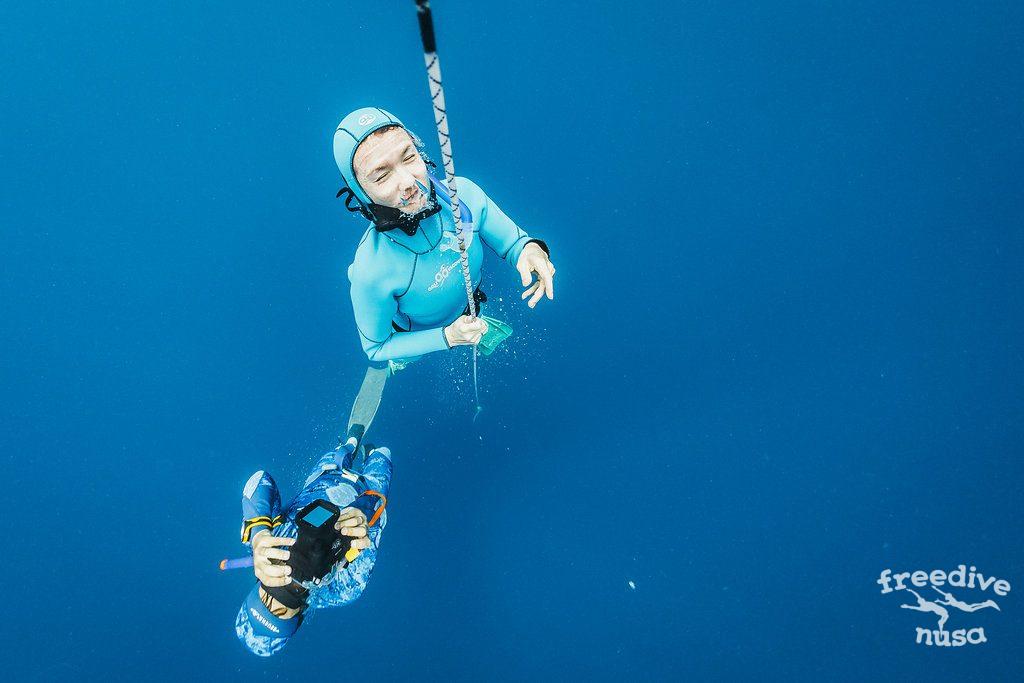 Day 5-7
After our days of diving around Kri and Mansuar, we will go for more diving in some spots of North Raja Ampat that are reachable by speedboat.
Dive sties near island Gam: Arborek Jetty (near the island Arborek with amazing sunset that we will enjoy after one of our fun dives), Mike's Point, Laosi, and Manta Sandy.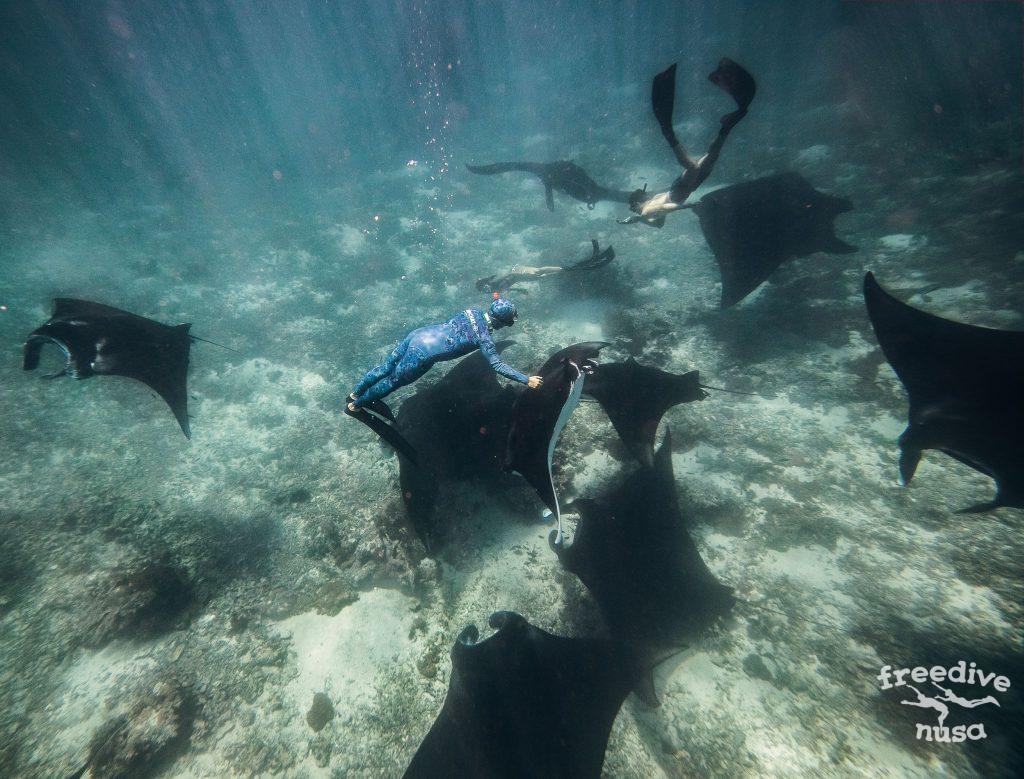 In one of these days, we will travel until Pianemo island to check the famous, beautiful karst islands. On the way and on the way back, we will stop by some spots to dive on several reefs.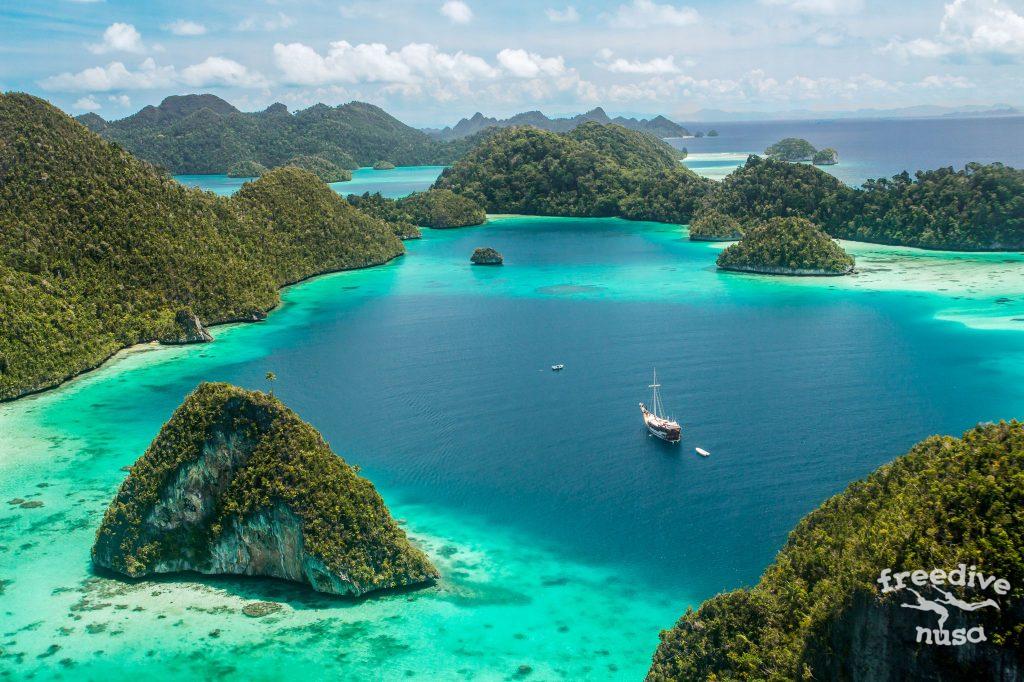 We will also visit the magic place of Floating Sand which is a group of sand islands that are only visible during the low tide. These islands are the tips of atolls with beautiful reef on its edges which will also be a spot for us to dive.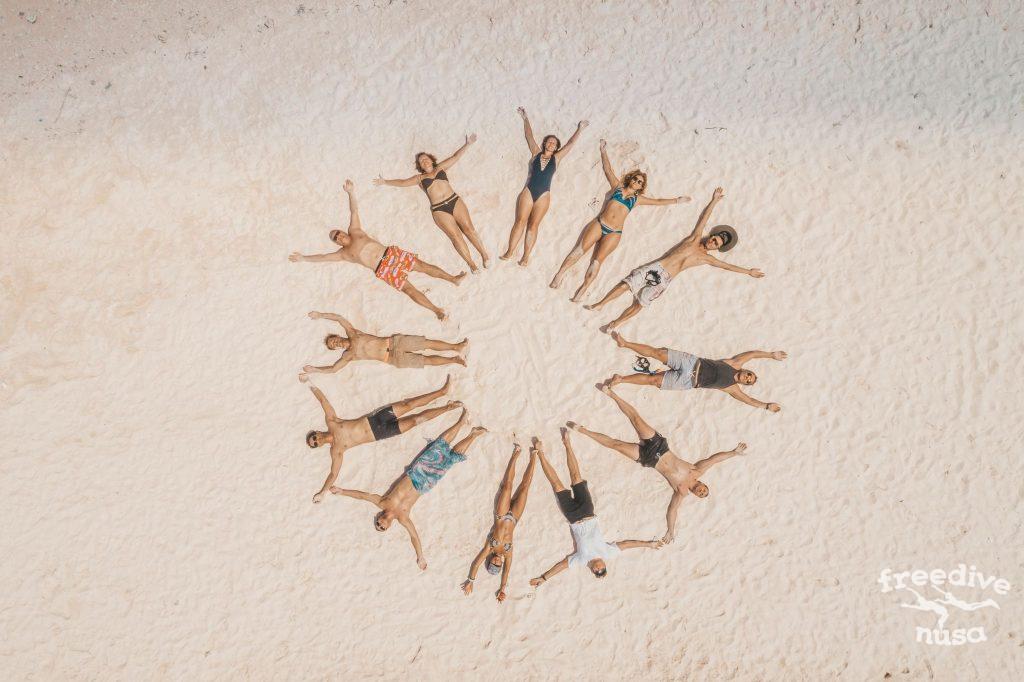 Those who will be tired of diving could spend one of these days exploring on land's nature of Raja Ampat islands and even see a traditional ceremony held by local people.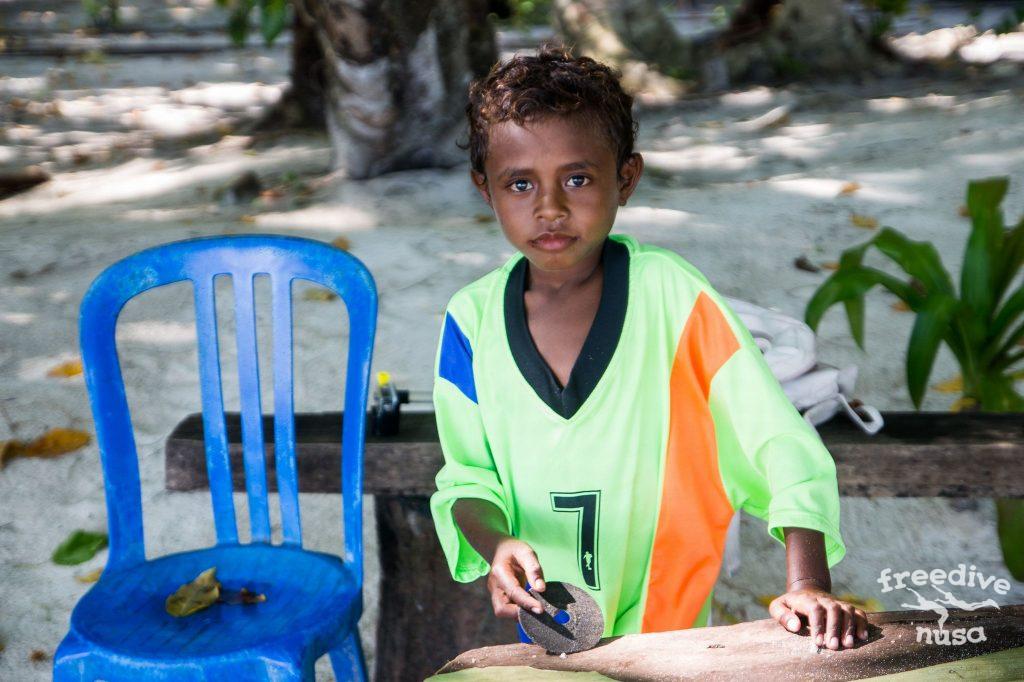 Day 8
Going back to Sorong and take a flight back to Bali.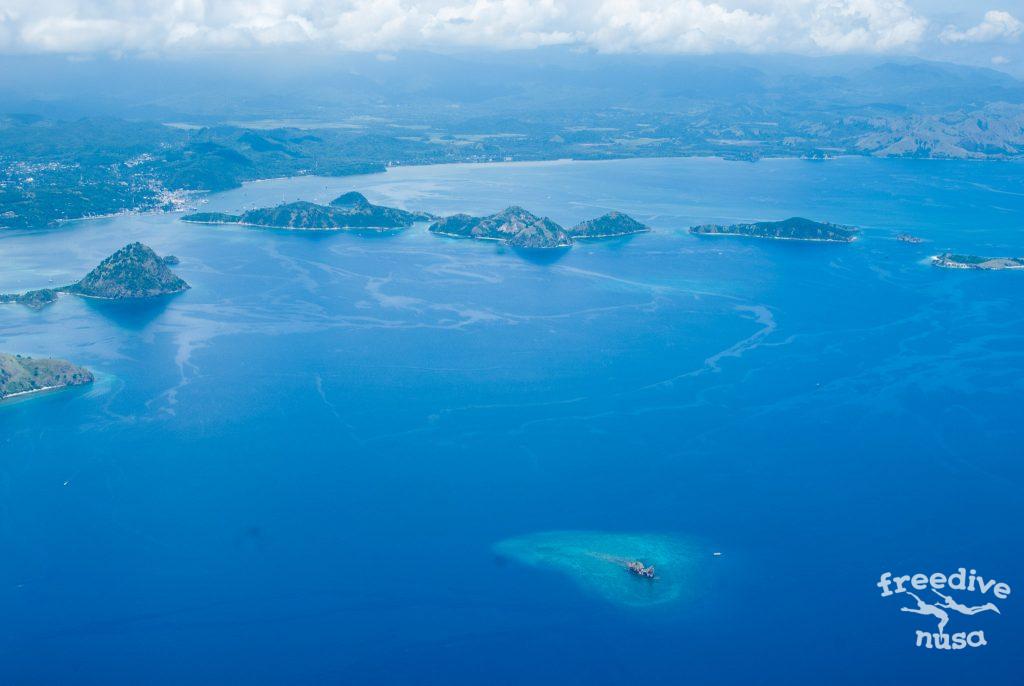 Included in the trip
Freediving guided by professional freediving instructor and guides that will accompany you during training and throughout the trip
Yoga classes
All tickets and permits, including diving permits in Raja Ampat
All transportation fees for the program compulsory program, except flights
Accommodation (two people in one room) in a bungalows on the Kri island, 6 nights with meals 3 times a day
One night stay in Makassar airport hotel (two people in one room)
Rental of mask, snorkel, wetsuit, freediving fins, weight belt
Excluded / additional costs
Flights Bali-Makassar-Sorong and Sorong-Makassar-Bali
Soft drinks & alcoholic beverages
Meals other than mentioned above.
Travel insurance
Booking and Payment
To book this trip we ask you to pay a deposit of 300 USD (+5% PayPal-Fee) per person via the PayPal link we will provide you for bookings. For paying via credit card, please also use this link. This deposit is non-refundable unless the trip will be cancelled from our side.
The remaining payment can be done via PayPal or in cash (USD or IDR using exchange rate on day of payment). Payments via PayPal are subject of additional 5% to cover PayPal Fees. The PayPal Fee of 5% for payments is non-refundable.
Full payment is due 14 days before the start of the trip.
Cancellations and Refund
A cancellation fee of 300 USD applies to all bookings. The extra PayPal Fee of 5% for payments is non-refundable.
For cancellations by customers a cancellation fee of 300 USD applies. For cancellations before the start of the trip we will refund payments above 300 USD.
Cancellations by Freedive Nusa
To run the Raja Ampat Trip a minimum number of bookings of six customer will be necessary.
Up to 14 days in advance of the start date Freedive Nusa will be able to cancel the trip. In this case full refund of all payments including the 300 USD deposit will be given to customers. With you booking you agree, that Freedive Nusa will not be held liable for any other travel arrangements might by customers, including but not limited to flights and transportation bookings to get to and from Sorong, reservations for accommodation, etc.
Itinerary changes
Sailing itineraries and daily programs are subject to change due to weather and sea conditions, availability of safe anchorage, government regulations and other factors. Every effort will be made to carry out the program as planned. Program changes may take place during the cruise to take advantage of local cultural events, to adapt to sailing conditions, or in response to other factors. Only if the duration of the trip or event is adversely affected shall Freedive Nusa refund the difference between the agreed tour price and the services actually provided.
Feel free to contact us to book your trip or to ask any questions.