Welcome to Freedive Nusa!
Our History and Values
Driven by our passion for freediving, we spent years traveling around Asia to find the perfect place where we could create a school. We wanted a paradise where we could make our home, invite people to share in our philosophy, and share in the joy of living and diving together. In 2016, when we found the island of Nusa Penida, we knew that we had found the perfect place.
Freedive Nusa is our life's work and achievement, and a realization of all our dreams. Our school has grown rapidly all these years, built around the simple island lifestyle, our passion for freediving, and love for the ocean.
Nowadays, we can define Freedive Nusa as one of the biggest freediving schools in Indonesia with great facilities, the most comprehensive freediving courses, and a highly professional team.
We believe that diving and being in the water are natural for humans.
We see it as our mission to help other people discover this natural relationship between humans and the sea. Through our school and teaching, we help people discover how to be one with water, how to enjoy the water, and how to feel free in the water.
Our approach to teaching freediving is not based on chasing numbers or benchmarks based solely on meters and minutes. Our courses and training are always adapted to personal needs and requests. We promote consciousness and enhanced water comfort that comes with freediving, while still having fun and enjoying the process!
Our Team
Kirill Popov

SSI Freediving Instructor Trainer, Molchanovs Instructor Trainer

Kirill has been freediving since 2011.
In January 2013, he became an SSI Freediving Instructor. From this point on, he organized and conducted many freediving courses and group trips for freedivers in Russia, Thailand, Philippines, Indonesia, Turkey, and Egypt.
Since 2016, he has been living and teaching diving on Nusa Penida and organizing adventures for freedivers around Indonesia.
In April 2018, he became an SSI Freediving Instructor Trainer.
In November 2019, he became an Instructor Trainer in the Molchanovs Freediving Educational System.
Freediving is very diverse! Freediving is for everyone! And everyone can find for themselves the most interesting points in this diversity. Freediving is another world and I really like to help other people to join this world and to explore it!
---
Chiara Bussini
Molchanovs Wave 2 Instructor
Originally from Italy, Chiara lived in Australia for many years and traveled extensively throughout Asia and the Pacific nurturing and growing her love for the ocean and foreign cultures.
She thought Scuba Diving for years before embracing freediving, where the connection between body and mind is more palpable. Animals and nature lover, she is passionate about sharing her enthusiasm for the water and the calm that can derive from it.
What I love the most about freediving is that it prompts you to relax and slow down; it can drive you into another dimension where everything is harmonious. It's like a powerful underwater meditation that allows you to discover your mind and body – their limits and potential – in a unique way.
---
Gaston Otero
Molchanovs Wave 2 Instructor
Born in Patagonia, Argentina, Gas worked as a Scuba Diving Instructor for many years in several countries before officially approaching freediving.
He likes to teach holistically, creating a unique approach with each student based on their individual needs and background. His professionalism and happy attitude blend in to fill the students with knowledge and fun at the same time.
He is a traveler and explorer as well as an ocean, arts, and animal lover.
I love how freediving stops the internal dialogue and connects you deeply with yourself and with the present moment. I like to teach with special care, paying attention to everyone´s personal journey rather than focusing on the destination.
---
Adhi Isti Febriandhika (Sabli)
Molchanovs Wave 2 Instructor
Sabli has been passionate about freediving and spearfishing since 2017. He is from East Java Region, was born in Surabaya, and started freediving with the freedive community in Malang. He loves to share his passion and knowledge in freediving and spearfishing with anyone who'd like to learn more.
His passion for freediving led him to participate in our scholarship program and finally become a freediving instructor and a valuable part of our team.
I love both – competitive and recreational freediving. I truly want to contribute to the freediving community in Indonesia and help people experience the joys of freediving!
---
Vsevolod Atmazhitov
Molchanovs Wave 3 Instructor
| | |
| --- | --- |
| | Seva has been freediving in his hometown's cold mountain lake to watch fishes and get some crustaceans for lunch ever since he was a child, even before he knew the word "freediving". But he didn't know how to equalize properly, so he never dived deeper than 5 m. In 2015, Seva enrolled in his first freediving course to learn more about equalization. He got fascinated, and by now freediving has become his job and lifestyle. He has taken part in competitions as a safety diver, certified AIDA judge, organizer, and athlete. As part of a social project, taught courses to people with disabilities and overcoming addictions. |
I firmly believe we're all born to be happy. Freediving made me happy, more open-minded, and open-hearted. Being an instructor for me means I can show people one more way to become happy. I'm convinced that everyone can freedive, regardless of their age, gender, abilities, disabilities, or extrabilities.
What makes freediving with Freedive Nusa the best choice?
Experienced highly professional international team of freediving instructors

Great facilities of the school: pools for static and dynamic apnea, 3 classrooms, top-level equipment included in all trainings, 2 own well-maintained dive boats, yoga studio, gym, sauna, etc.

Unlimited training depth. The maximum depth in the strait between Bali and Nusa Penida is over 300m.

Nice warm water! The water temperature is 27-29 degrees all year long.

The best diving conditions with clean water and perfect visibility! The island is far enough from Bali that the water here is much clearer than those around Bali, especially during the rainy season.

A rich underwater world. It's the best place in all of Bali for diving when measured by the number of species you can see underwater. There is a high possibility to see Manta Rays

Amazing sight-seeing on Nusa Penida to discover when you aren't diving: beautiful beaches, breathtaking cliffs, waterfalls, etc. This island truly is paradise!

Easy access to a remote paradise. Just 40 minutes by speedboat from Bali.

A comfortable place to kick back and relax.  Several good cafes and nice accommodation options within walking distance.

Calm village atmosphere and very friendly local people
Our Location
Freedive Nusa is situated on Nusa Penida island, a part of Bali province, 12 km from the South-East of Bali.
This island is a limestone plateau, with sandy beaches in the North and East, and seaweed gardens in the shallow waters — one of the main income sources for locals. You can enjoy the best view of the Agung volcano just from the beach in front of the school.
On The Southern and Western coasts, you'll find breathtaking 200m cliffs dropping straight into the ocean with small sandy beaches between the rocks, accessible by foot.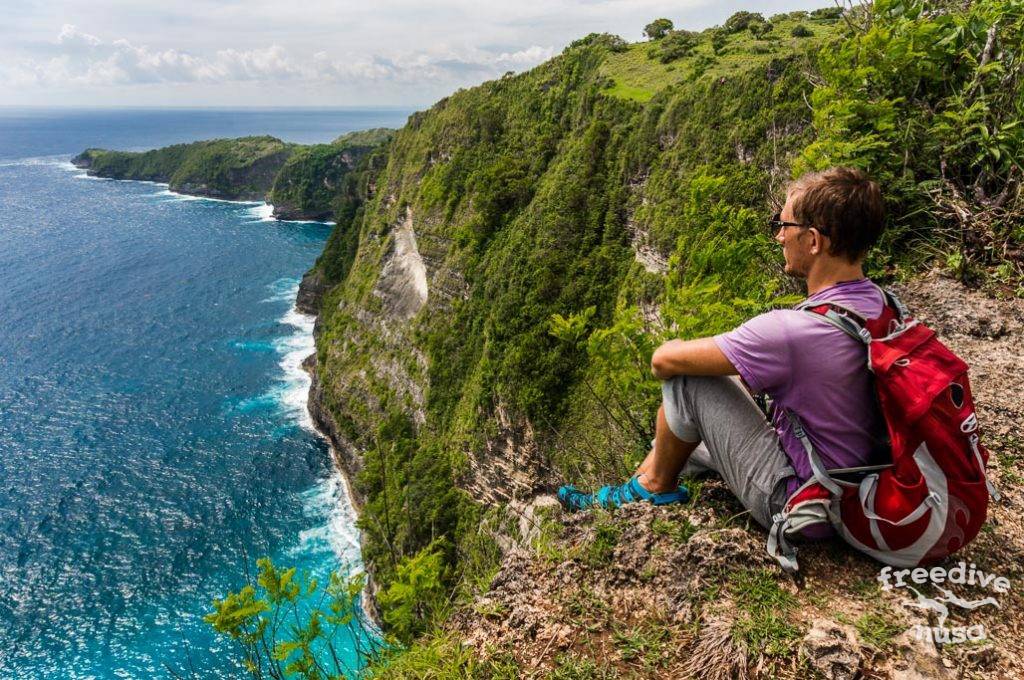 On Nusa Penida, you can easily escape into nature. While roads can be rough, the landscapes are fantastic and well worth the trek.
Nusa Penida's main attraction is its dive sites. Nusa Penida's diving is the best in Bali. In addition to the dozens of world-class dive sites, there is the opportunity to encounter Manta Rays or Mola-Mola Fish. It will spoil you.
The local people are very friendly. Despite the new growth in tourism, the island maintains an open and relaxed atmosphere, especially when compared with South Bali or nearby crowded Lembongan island.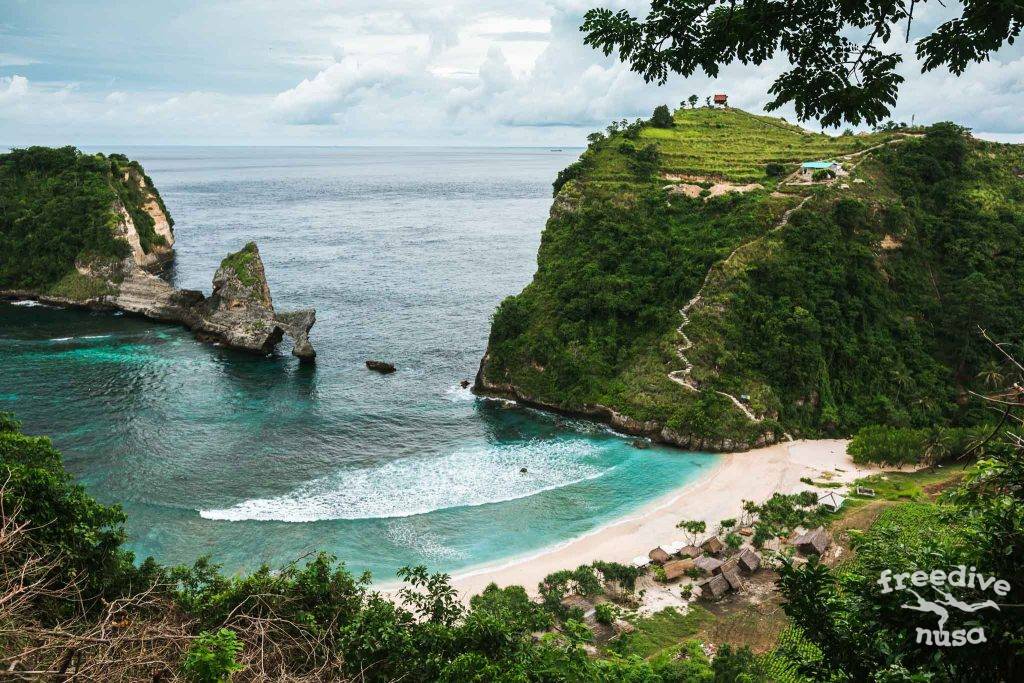 Our schoolyard is located on the northeast side of the island – the best and the most developed place with many cafes and accommodation options within walking distance.
The school is just 20 m from the beach. Our property is hidden from the road and has all facilities needed for our students.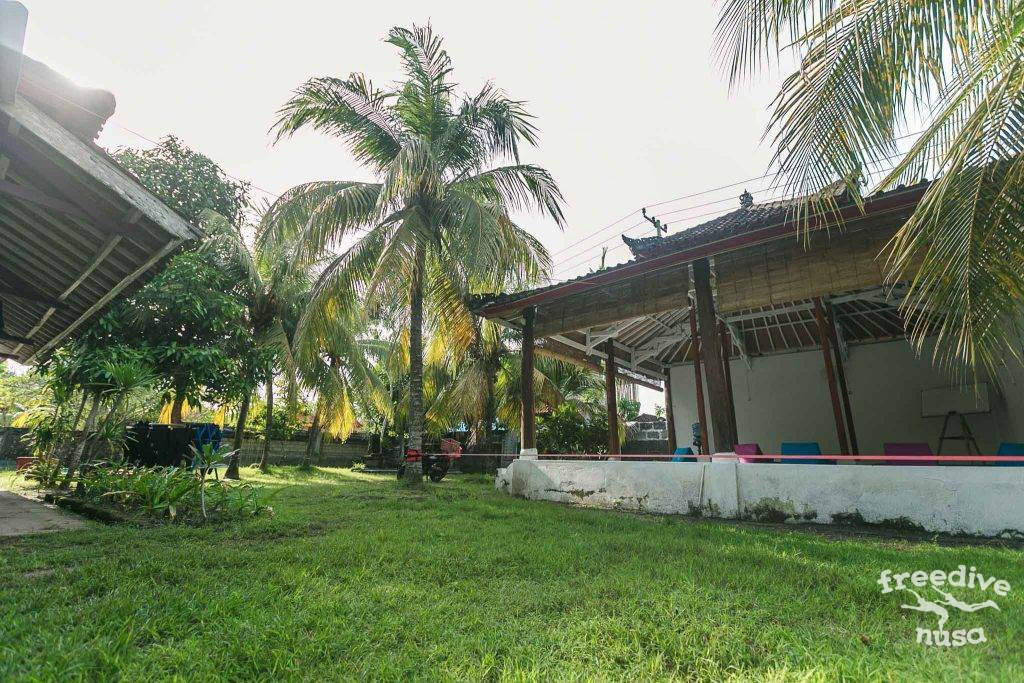 We have all the facilities to dive comfortably by beach entrance to our rich home reef and by boat.
Theoretical classes and on-land practical sessions are held in a comfortable studio.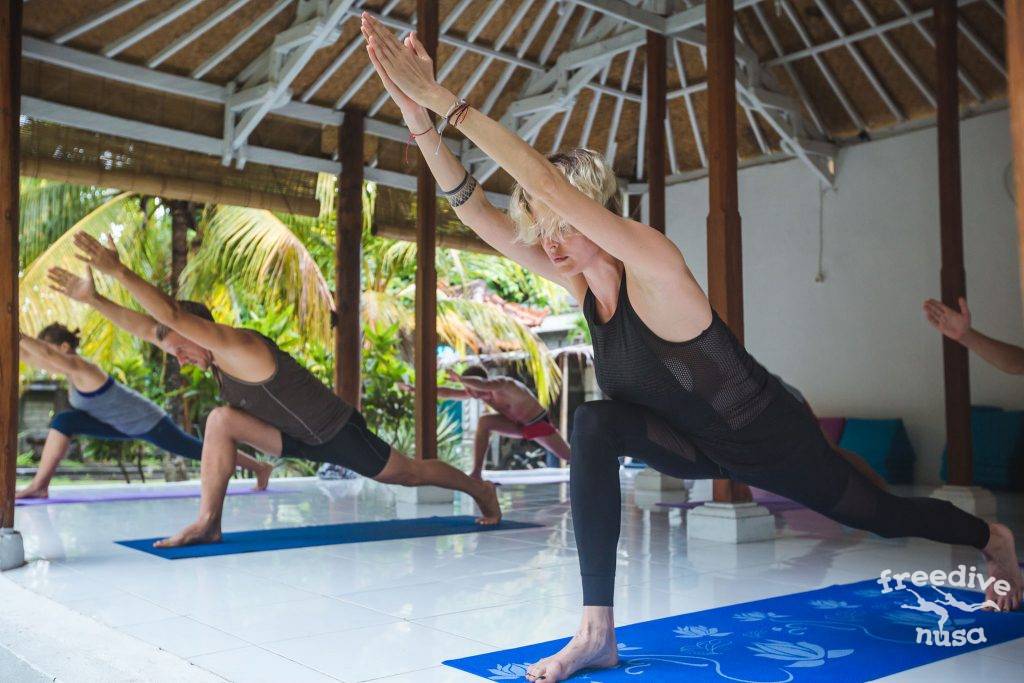 During breaks, you can have lunch at nearby cafes, where you can enjoy tasty, healthy food while taking in the beautiful ocean view of Bali and Mt. Agung.
Besides teaching apnea diving on Nusa Penida, we regularly organize fun diving trips to dive sites around the island, Manta trips to dive with Manta Rays, special courses for surfers, and unique freedive trips around Indonesia.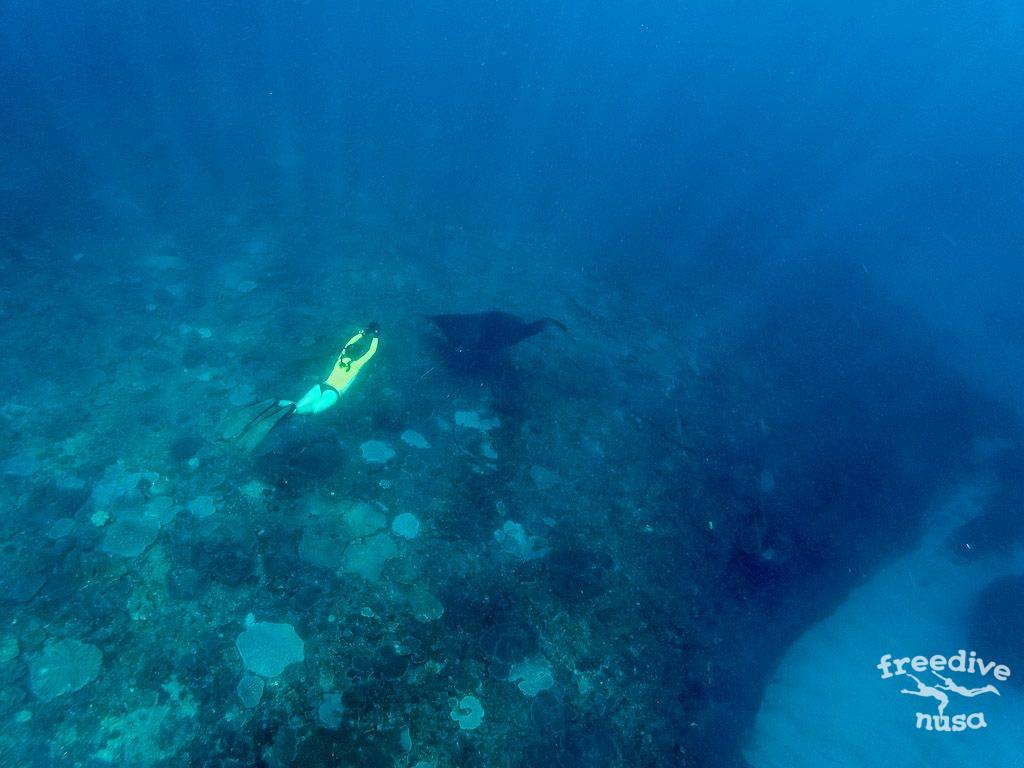 See you at Nusa Penida!

FAQ
Is Freediving a safe sport?
YES! Freediving is a very safe sport if it is practiced correctly. It is a natural activity, and the human body is very well capable of breath-holding and diving underwater. Taking an officially recognized freediving course will only make you a safer and a more confident freediver.
Accidents happen because of lack of proper training and education. Beware of bogus freediving coaches. Ask questions about their certification so that you will know that you are in safe with them.
How often you are holding the courses?
We have a team of instructors and start courses nearly every day. Just send us a message and choose dates the most convenient for you.
Is your school open all year long? When is the best time to come?
We are working 12 months a year. You are very welcome to come anytime you want. There is a high season of the island which starts from June to October. During this time you have the chance to see Mola-Mola fish (Moon fish), which attracts divers from all over the world. During high season the water is a bit colder and prices for accommodation a bit higher.
Low season starts from December to February as for all of Bali region. It could rain during the low season. However, Nusa Penida is a dry region, and the weather is cooler than the rest of Bali. The visibility stays on the same level all the year, even in the raining season.