Welcome to Freedive Nusa!
Our History and Values
We are Kirill and Yana; we are the founders of the school and we are deeply in love with freediving. Driven by our passion for freediving, we spent years traveling around Asia to find the perfect place where we could create a school. We wanted a paradise where we could make our home, invite people to share in our philosophy, and share in the joy of living and diving together. In 2016, when we found the island of Nusa Penida, we knew that we had found the perfect place.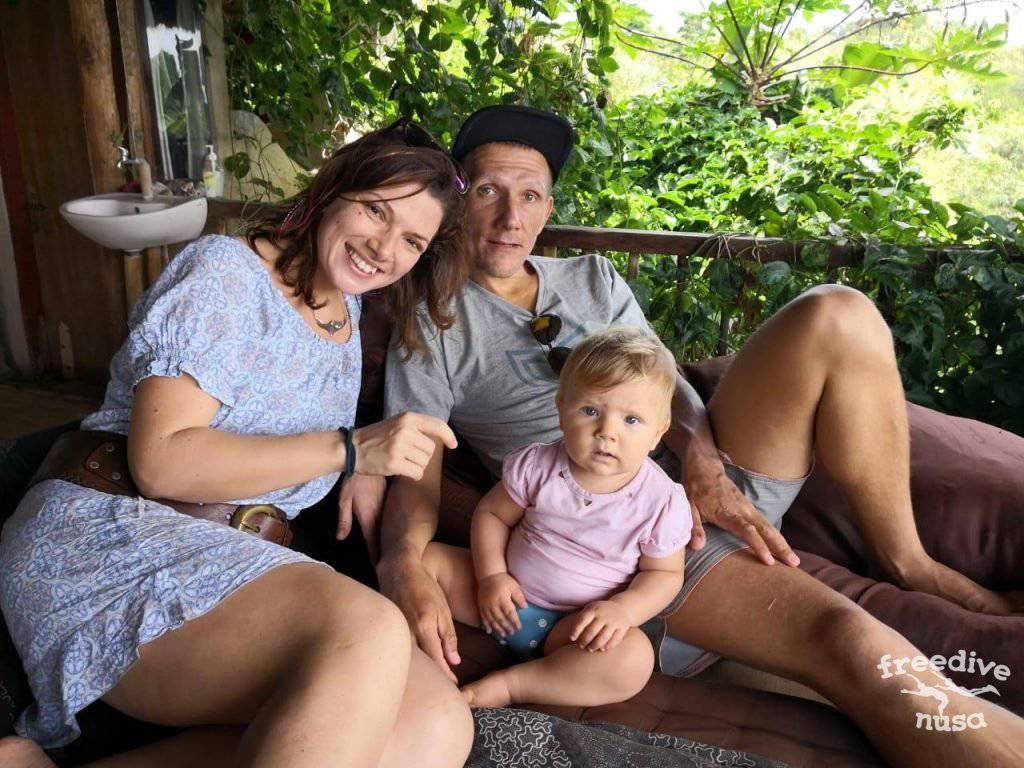 Freedive Nusa is our life's work and achievement, and a realization of all our dreams. Our school has grown rapidly, built around the freedivers' lifestyle and love for the Ocean, and fostered through enthusiasm.
We believe that diving and being in the water is natural for humans.
We see it as our mission to help other people discover this natural relationship between humans and the sea. Through our school and teachings, we help people discover how to be one with water, how to live in the water, and how to feel free in the water. And through our work, we continually surround ourselves with more water confident people with an even greater love for the ocean.
Our approach to teaching freediving is not based on chasing numbers or benchmarks based solely on meters and minutes. We show our students the feelings of higher consciousness and enhanced water comfort that comes with freediving, while still having fun and enjoying ourselves!
Our Team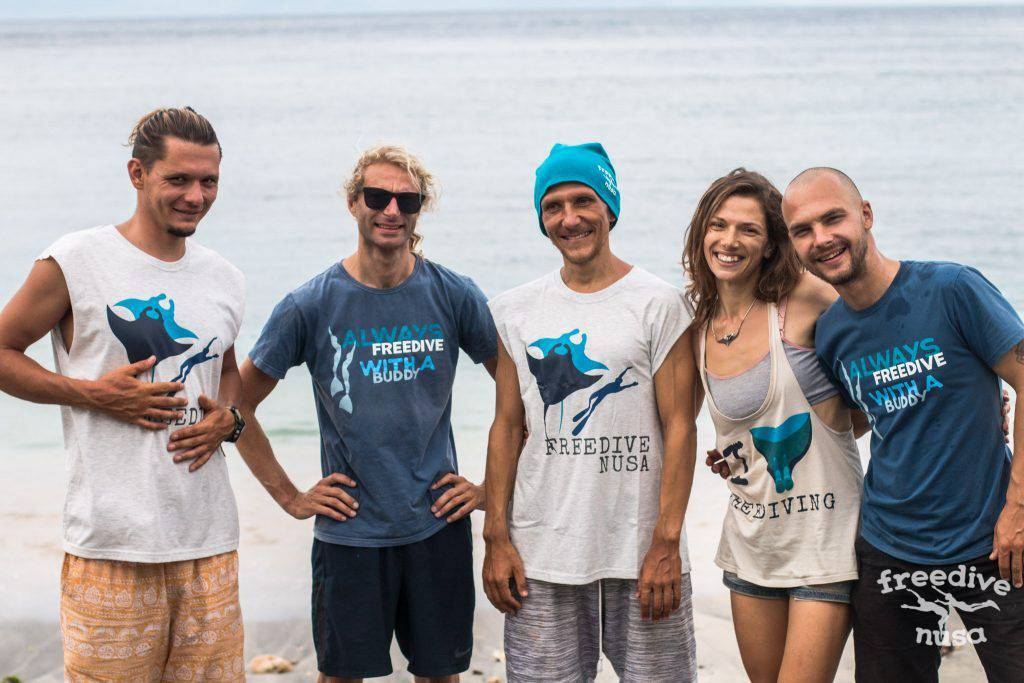 ---
Kirill Popov

Owner of the school, SSI Freediving Instructor Trainer, Molchanovs Instructor Trainer

Kirill has been freediving since 2011.
Since January 2013, he became an SSI Freediving Instructor. From this point on, he organized and conducted many freediving courses and group trips for freedivers in Russia, Thailand, Philippines, Indonesia, Turkey, and Egypt.
Since 2016, he has been living and teaching diving on Nusa Penida and organizing adventures for freedivers around Indonesia.
In April 2018, he became an SSI Freediving Instructor Trainer.
In November 2019, he became an Instructor Trainer in the Molchanovs Freediving Educational System.
Freediving is very diverse! Freediving is for everyone! And everyone can find for themselves the most interesting points in this diversity. Freediving is another world and I really like to help other people to join this world and to explore it!
---
Yana Sutina
Owner of the school, in-water dance teacher, Watsu Therapist
Yana originally from cold St.Petersburg in Russia. Since 2010, she lives together with Kirill mainly in South-East Asia and has traveled all over the region.
She started breath-hold diving in 2011.
She practices and teaches contact improvisation, yoga, dance in-water, relaxation techniques, and in-water massage called Watsu and Aguahara.
She is the organizer and soul of the school.
She is also the main organizer and teacher at specialized Contact Improvisation festivals based in Russia and Thailand.
Since October 2017, she has been raising a little mermaid called Vera.
For me, freediving is about inner awareness. Being here and now, being in the moment… Watching your attention, concentrating it on something or deconcentrating… Remember that restrictions and freedom are two sides of the same coin… These topics are very important to me and freediving is about gathering all of them into a single practice.
---
Emily Krakoff
Manager, SSI Freediving Level 2 Instructor, Underwater Photographer

Emily was born in California and started freediving in Central America.
She was a scuba instructor but became a freediving instructor when she found a job description looking for a scuba & freediving instructor for a shark diving position.
She has worked in diving on five continents.
She has written four of her own diving courses on shark diving.
Her educational background is in neuroscience and in fine arts photography. When not working as an instructor, she also works as an underwater photographer.
She is passionate about marine conservation education and loves assisting the Trash Hero clean-ups here in Nusa Penida.
She absolutely loves reef diving in heavy current, both in freediving and scuba, and can't imagine her life without it.
I like to have fun and urge my students to always dive happy! My favorite thing that I discovered with freediving is how much communication and community there actually is in the sport! We talk a lot about the beautiful silence you get during a freedive. But the words shared across the buoy between dives and the relationship built between instructors and students and between dive buddies goes beyond individual achievement and is so unique. I really value and emphasize that.
---
What makes freediving with Freedive Nusa the best choice?
Professional team of instructors.

Unlimited training depth. The maximum depth in the strait between Bali and Nusa Penida is 200m. You can dive from the shore,  after 100 meters the sea bottom is dropping deep on almost 90-degree wall. For training sessions, we are going for diving from the boat.

Nice warm water! The water temperature is 27-29 degrees all year long.

The best diving conditions with clean water and perfect visibility! The island is far enough from Bali that the water here is much clearer than those around Bali, especially during the rainy season.

A rich underwater world. It's the best place in all Bali for diving when measuring by the number of species you can see underwater. There is a high possibility to see Manta Rays and Mola-Mola fish.

Amazing sight-seeing on Nusa Penida to discover when you aren't diving: beautiful beaches, breathtaking cliffs, waterfalls, etc. This island truly is paradise!

Regular yoga classes in our studio.

Easy access to a remote paradise. Just 40 minutes by speedboat from Bali.

A comfortable place to kick back and relax.  Several nice accommodation options just 100-200 meters away from the school with breakfast, wifi, and air-conditioning or fan if you like.

Calm village atmosphere and friendly locals.

An unforgettable view of Bali island.
Location of the school
Freedive Nusa is situated on Nusa Penida island, a part of Bali province, 12 km from the South-East from Bali.
This island is a limestone plateau, with sandy beaches in the North and East, and seaweed gardens in the shallow waters — one of the main income sources for locals. You can enjoy the best view of Agung volcano just from the beach in front of the school.
On The Southern and Western coast, you'll find breathtaking 200m cliffs dropping straight into the ocean with small sandy beaches between the rocks, accessible by foot.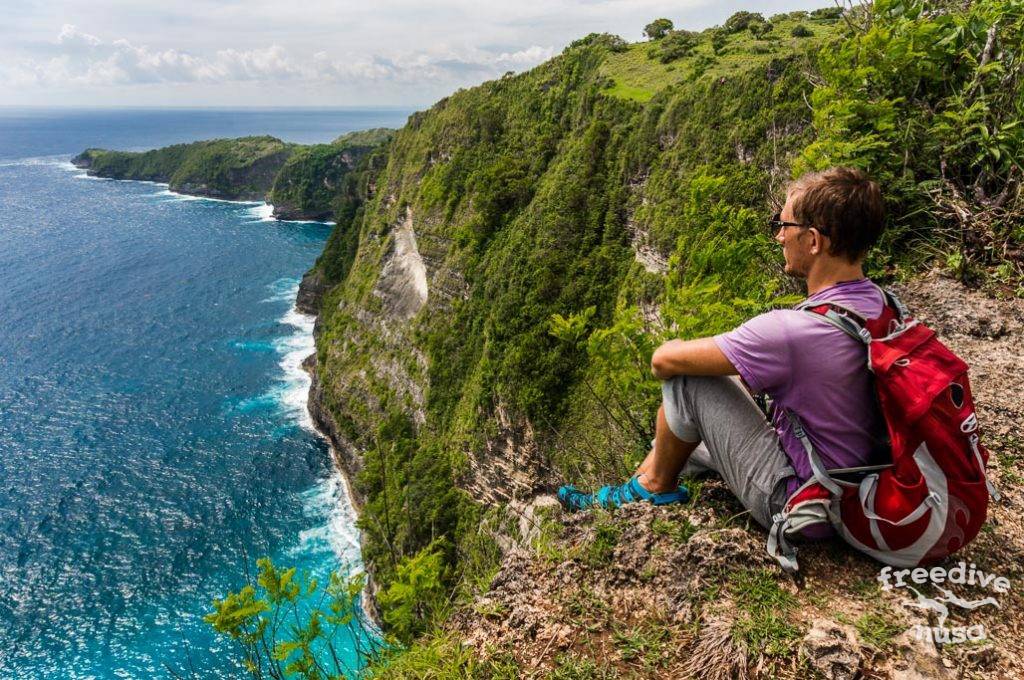 On Nusa Penida, you can easily escape into nature. While roads can be rough, the landscapes are fantastic and well worth the trek.
Nusa Penida's main attraction is its dive sites. Nusa Penida's diving is the best in Bali. In addition to the dozens of world-class dive sites, there is the opportunity to encounter Manta Rays or Mola-Mola Fish. It will spoil you.
The local people are very friendly. Despite the new growth in tourism, the island maintains an open and relaxed atmosphere, especially when compared with South Bali or nearby crowded Lembongan island.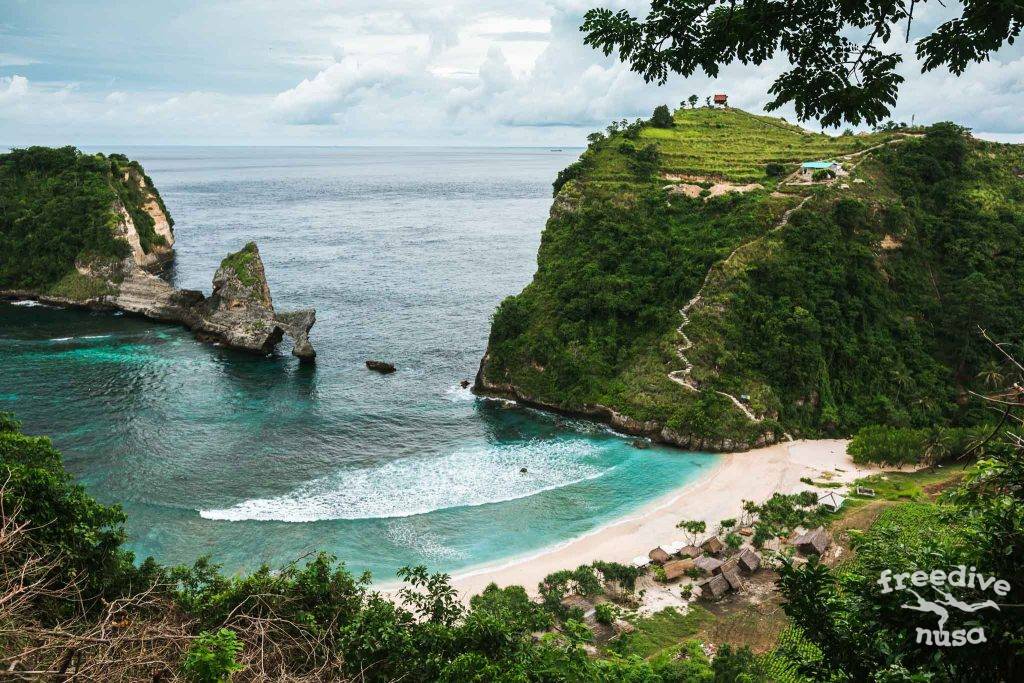 Our school property is located on the northeast side of the island, between Ring Sameton Hotel and Jero Rawa Homestay.
The school is just 20 m from the beach. Our property is hidden from the road and has all facilities needed for our students.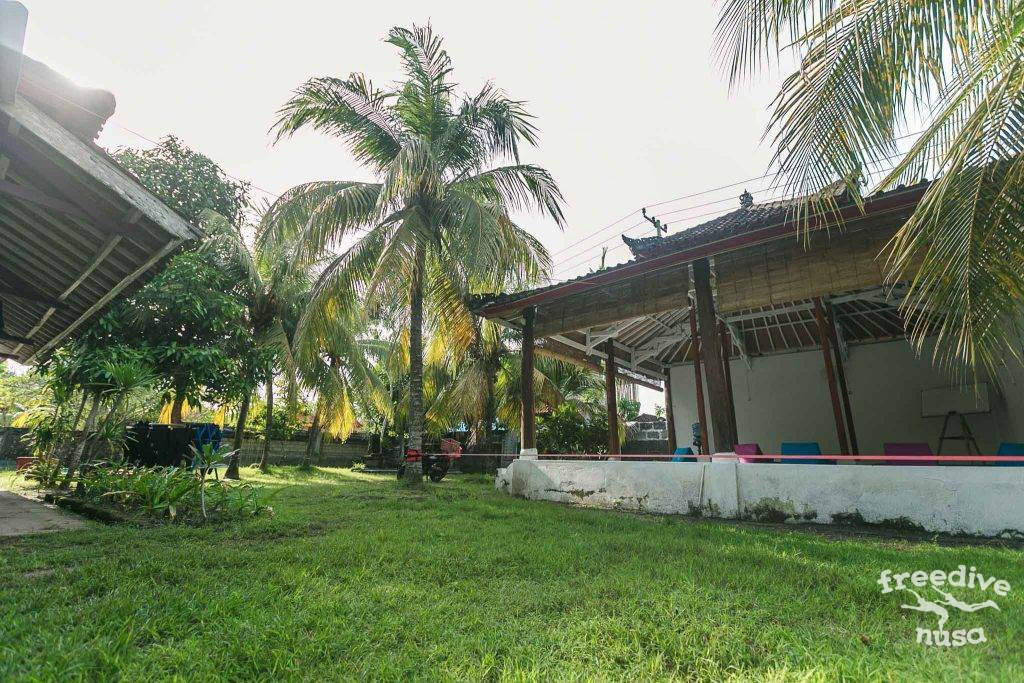 We have all the facilities to dive comfortably by beach entrance to our rich home reef and by boat.
Theoretical classes and on land practical sessions are held in a comfortable yoga studio.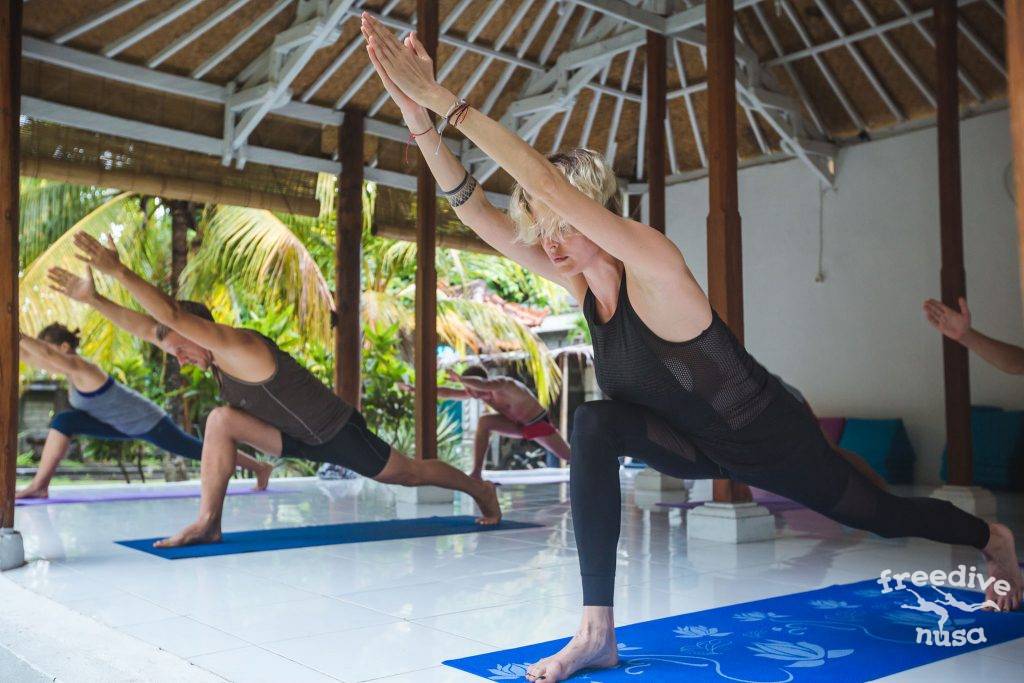 During breaks, you can have lunch at nearby cafes, where you can enjoy tasty, healthy food while taking in the beautiful ocean view of Bali and Mt. Agung.
Besides teaching apnea diving on Nusa Penida, we regularly organize fun diving trips to dive sites around the island, Manta trips to dive with Manta Rays, special courses for surfers, and unique freedive trips around Indonesia.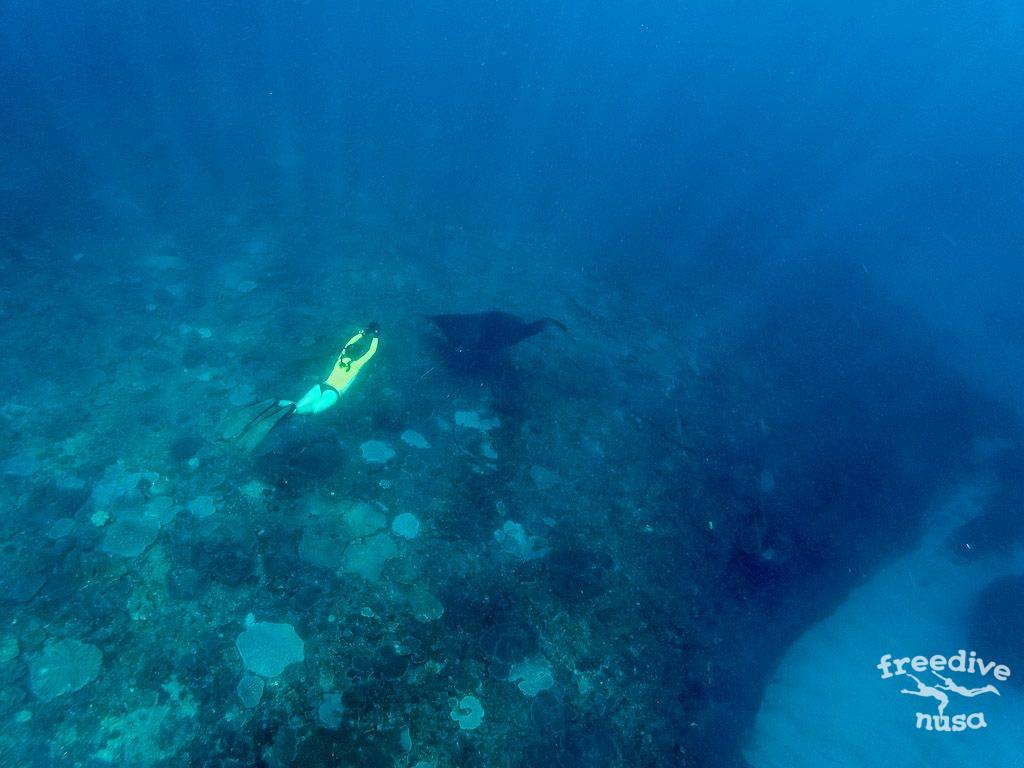 See you on Nusa Penida!