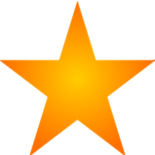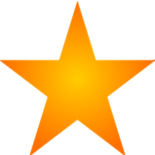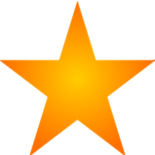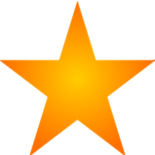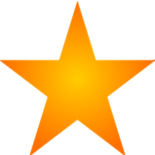 Freediving and Snorkeling with Manta Rays
Price: IDR 650.000
Duration: 4 hours
Location: Nusa Penida
Dates: every day
A lot of ocean lovers are wondering where to snorkel with Manta Rays. Snorkeling and freediving with mantas is an unforgettable experience! It is difficult to explain in words the sensations that arise when you glide underwater with these amazing giants.
We invite you to join us for an underwater adventure and experience freediving and snorkeling with Manta Rays around Nusa Penida.
On this half-day trip, we will bring you to 3 different dive sites.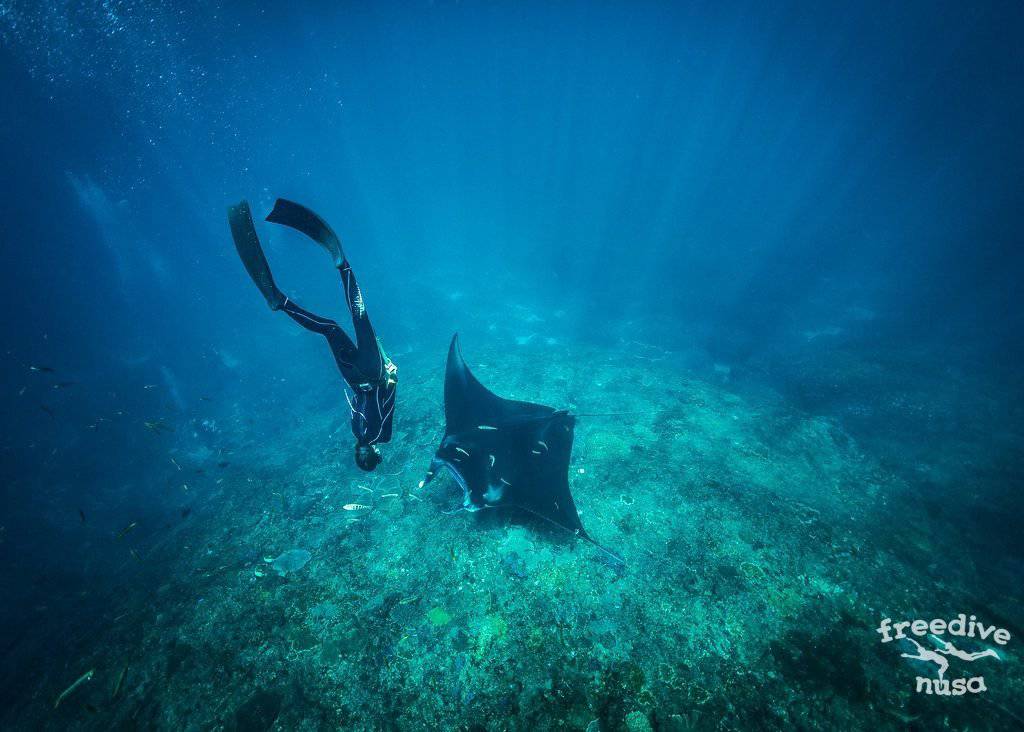 We will meet around 7:30 am at Freedive Nusa to take our equipment and listen to the briefing about safety rules and behavior while swimming with mantas. We provide the whole set of equipment for freediving and snorkeling including wetsuits because the water in that part of the island can be quite cold, especially from July to September.
Then a boat will pick us up right from the school at 8 am. Our experienced freediving instructors will be on the boat as in-water guides.
We will visit Manta Point, Toyapakeh Wall, SD Point. In case will be no mantas in Manta Point we can visit Manta Bay on the way back as well. The route might be adjusted to weather conditions.

We can additionally visit an underwater cave near Crystal Bay (for experienced freedivers and only if conditions allow).
You will be back at the school around 12 pm.
There are 2 main spots where you can see manta rays in Nusa Penida – Manta Bay and Manta Point. The first one is the closest and most of the snorkeling trips are going there. Usually, it is very chaotic and messy, there are a lot of people and boats.
The further spot is Manta Point. It's a much longer journey but you might get more chances to see mantas and definitely fewer people. This trip and experience is much more recommended and this is what we offer in our trips.
1. Freediving and snorkeling at Manta Point
The first dive site will be Manta Point where you can snorkel or freedive with Manta Rays.
Please, understand this is wild nature and nobody can promise you to see manta rays. Our crew and instructors always do their best to find mantas but we definitely can't guarantee them.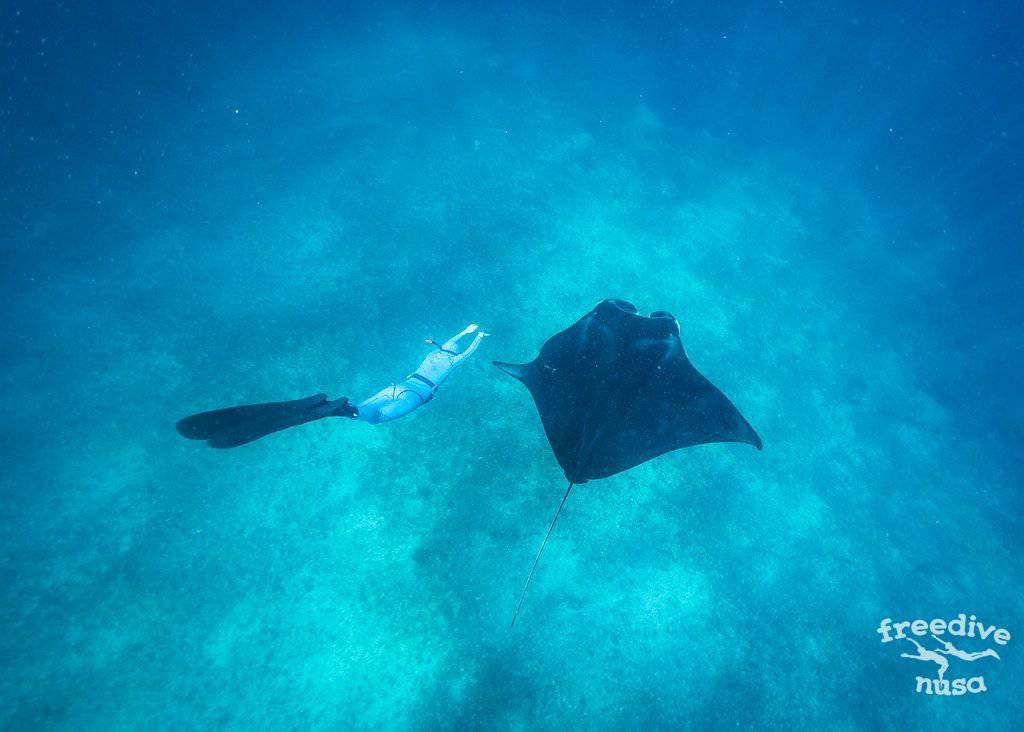 Manta Rays can usually be seen right from the surface as they feed on plankton that has been pushed into the bays by the currents. It is an awesome and unforgettable experience to swim near these gentle giants which can reach up to 6 meters of wingspan.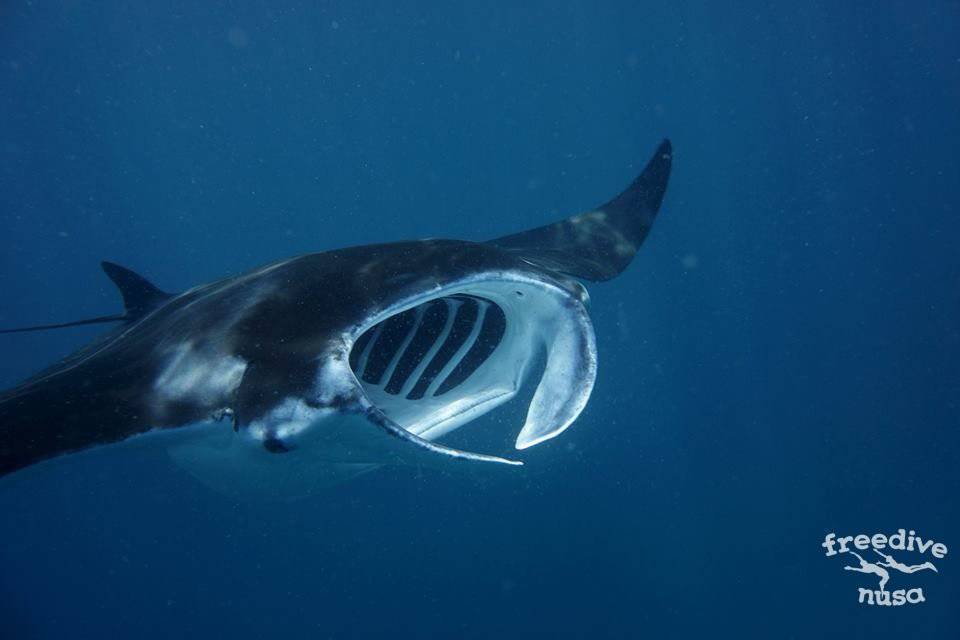 Swimming with Manta Rays will be an amazing underwater experience that you will remember!
Please, be aware there might be a lot of snorkelers in the water and a lot of boats around! Nusa Penida is one of the most accessible places in Asia where you can see Manta Rays and it attracts many people.
2. Underwater Cave at Crystal Bay (optional)
We have the option to freedive into a cave through an underwater entrance and be amazed by hundreds of bats that call this place their home.
To get into it, you need to dive through an underwater arch about 20 meters long and 8-10 meters deep.
Therefore, we visit this optional site only if we have a group of experienced freedivers and only if conditions allow!
3. Snorkeling at Gamat Bay or Toyapakeh Wall
This is a small protected bay with a rich colorful reef at a depth of 3-5 meters, which is ideal for those who are tired of freediving and just want to swim on the surface while looking at underwater beauty. Conditions are usually good for comfortable relaxed snorkeling – warmer water, the sea is calmer, no current and waves.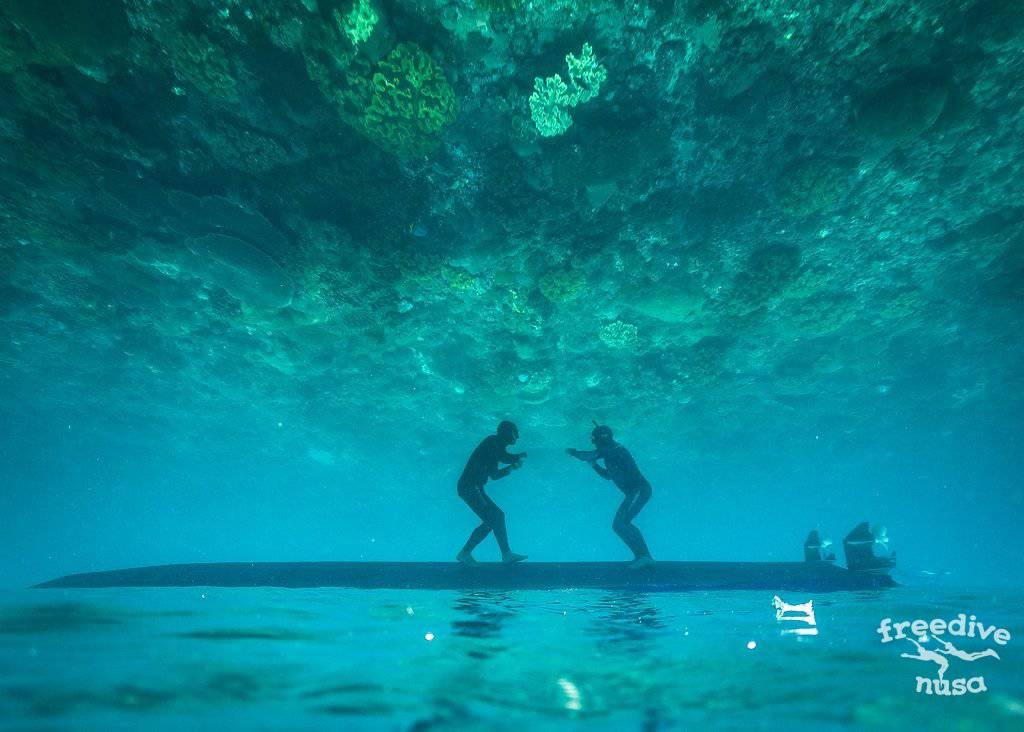 4. Drift diving at SD Point
This dive site is a beautiful coral wall near our school where we began our journey. There is always some current, so this is one of the best places on the island for drift diving. We will drift along the wall observing the diversity of underwater life, while the boat accompanies us.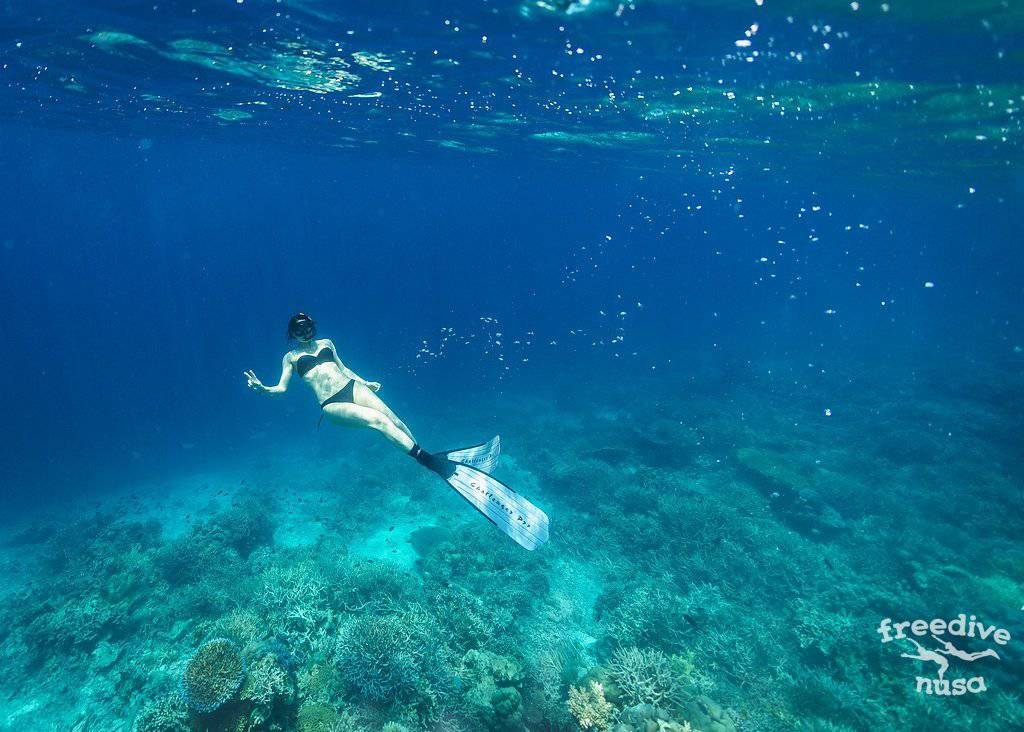 We can organize private charters, group snorkeling trips, and freediving trips guided by our professional instructors. If you are interested in a private trip, feel free to contact us.
Please always follow these Safety Rules and Manta Ray Code of Conduct while partaking in any freediving and snorkeling activity.
Also, please, be mindful that the water might be very choppy! We recommend having a very light breakfast or no breakfast at all and taking a seasickness tablet in the morning (we will provide it).
You should feel confident enough to swim in the open ocean affected by swell and waves. If you are not confident enough we recommend you do not attend the trip or take a freediving course beforehand
Price: IDR 650.000
Duration: from 7:30 am to 12:30 am
Please, notice the trip starts from Nusa Penida, not from Bali. So you have to come to the island on your own and spend a night here.
Included:
Boat ride
Equipment (mask, snorkel, fins, wetsuit, weight belt)
Life vest
Safety boxes in the school
Towels and hot water shower after the trip
What to bring:
Swimming gear
Underwater camera
Towel
Sunscreen / Hat / Sunglasses
Water bottle
Due to strong sea conditions like big swells, or stormy weather, the Manta Tour can be canceled with short notice. In this case, the trip can be rescheduled for another day or a full refund will be given.
Prices
| Course | Duration | Price |
| --- | --- | --- |
| Freediving and Snorkeling with Manta Rays | 4 hours | IDR 650.000 |
Recommended video
FAQ
How often do you organize Manta Trips?
We are doing it nearly every day if we have enough people and weather conditions are good. Simply contact us a couple of days before your planned dates and we can provide you with the exact answer about the possibility to join the trip.
Does trip start from Nusa Penida?
Yes, the trip starts from our school at around 8 am. So, we recommend coming to the island one day before to have rest and enjoy Nusa Penida. But in some cases, you can come to the island by the first speedboat from Sanur at 7 am. Contact us and we will try to find the best solution for you.
Is there any season for Manta Rays?
No, there is no exact season. They are here all year around. But nobody can promise them. It is a wild nature. The possibility to see mantas mostly depends on the weather conditions (waves, the temperature of the water, visibility, etc).
May we have private trip for our group?
Yes, of course. Simply contact us and we will discuss all the details. You can choose your own dates and the schedule can be completely tailored for your needs and wishes.
What should you know about snorkeling with mantas?
Before the trip, you will have a briefing from our instructor who will provide you with all the information about rules, route and safety tips during the trip. However, it is important to follow the Code of Conduct (https://freedivenusa.com/manta-ray-code-of-conduct/) which was written by us especially for this kind of trip.