Best Diving Sites for Freedivers on Nusa Penida
Do you love enjoying the ocean, be it by scuba, freediving or snorkelling, as much as we do? If the answer is yes, then visiting Nusa Penida, one of Bali's southern islands, is a must. Nusa Penida is one of the best places in Asia for unique Manta Ray encounters. People often refer to Nusa Penida as Bali from ten years ago, because here you can experience the beauty of mantas, pristine reefs, and the untouched beauty of one of Bali's last pristine islands.
Below we've listed some of the best sites for diving and freediving on Nusa Penida. In Nusa Penida, you are spoilt for choice!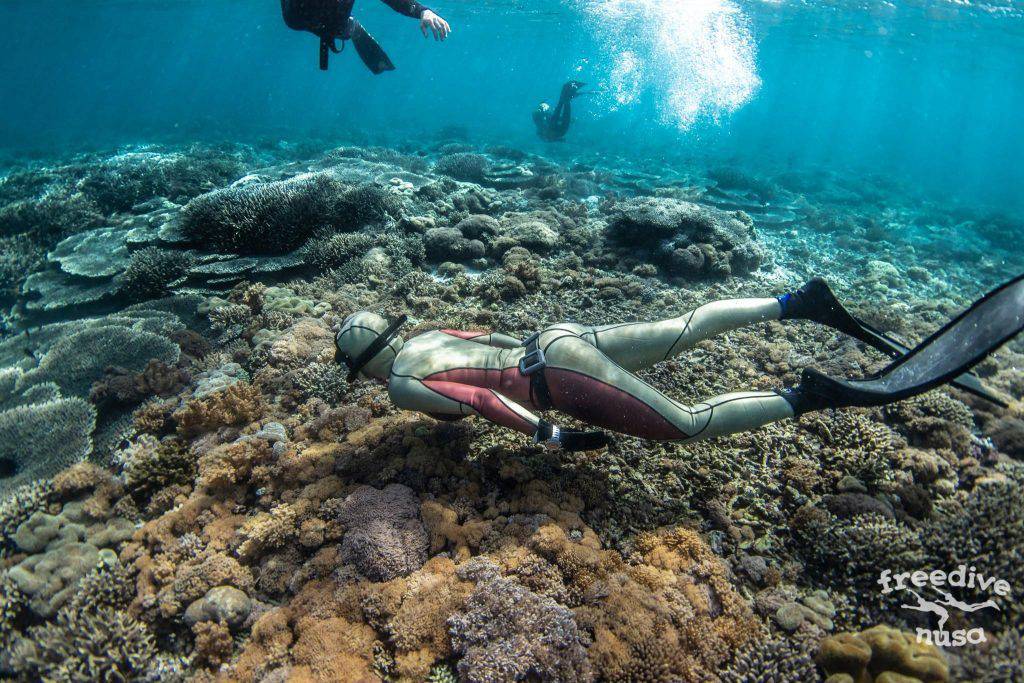 Crystal Bay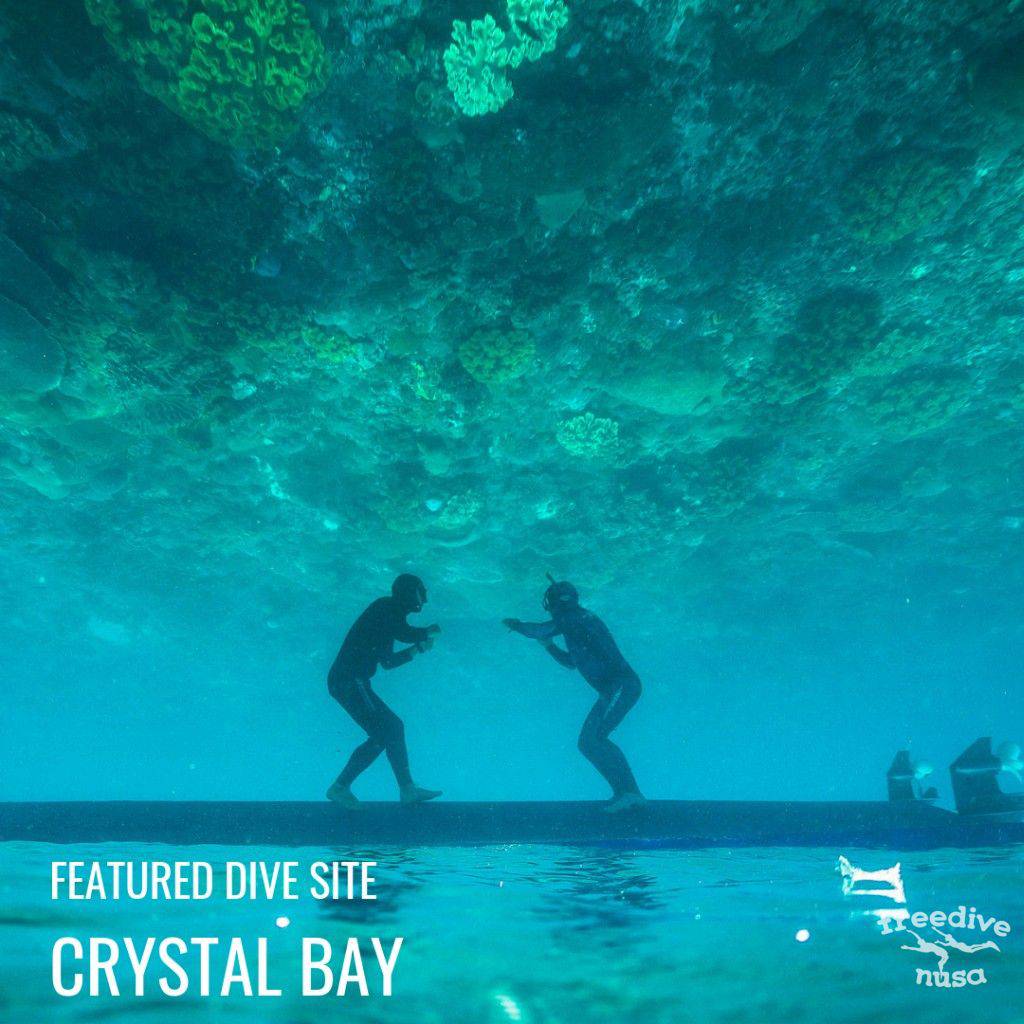 Why love it:
Crystal Bay is arguably one of the most popular dive sites for underwater enthusiasts due to superb corals, sandy bottom, and stunningly clear waters.
Crystal Bay is a great choice for snorkelers due to easy access directly from the shore and a true favorite of divers, especially during Mola Mola season.
Macro photographers have the chance of encountering frogfish and mantis shrimps. Nudibranchs of all possible shapes and colors inhabit the area. And our photogenic friends, Turtles and octopods, frequent the area.
A word of warning for freedivers: stay shallower and watch out for currents. Downward currents are often observed around the small island sitting in the middle of the bay.
Manta Bay

Why love it:
Manta encounters!
The majority of visitors go to Manta Bay to see the mantas on a manta trip. Located on the West Coast, Manta Bay is accessible via a half-an-hour boat ride from Toyapakeh or a 10-minutes trip from Crystal Bay. Manta encounters are almost guaranteed as it is their feeding ground.
Note that it can get really crowded during the high season with boats dotting the bay.
Remember not to touch mantas as their skin is extremely delicate and keep the distance of about 3-4 metres.
Read more about   Safety Rules and Manta Ray Code of Conduct.
Take medicine if you are prone to seasickness as the sea can get quite choppy here.
Manta Point

Why love it:
You can encounter mantas here all year round. The journey to the site is truly scenic. Here you will see the majestic mantas gliding over the cleaning stations at Manta Point.
While watching mantas, if you keep your distance, these amazing creatures will go on moving around you gracefully.
Blue spotted rays on the sandy bottom are common guests here, too.
Divers have an opportunity to spot octopuses and bamboo sharks as well. Mola Molas make an appearance here once in a while, too.
Leaving from our Freediving school, Manta Point is the most distant dive site on Nusa Penida. It takes about an hour to get there but the journey along the picturesque coastline is an adventure in itself.
Sental

Why love it:
Arguably the best place for a fun drift dive within an easy reach from our freediving school.
Sental is one of the most centrally located dive sites along the North Coast of Nusa Penida with a healthy reef featuring stunningly beautiful corals, huge sponges, and an incredible abundance of reef fish. You can have a pleasant drift dive in this busy underwater world.
If the current is strong, you can cover several dive sites at a time. The reef starts in the shallow zone where the seaweed farms used to be. Then the bottom drops abruptly to form a wall where some of the best corals and marine life are found at 15-20 meters depth.
Look for huge pufferfish, turtles, and reef sharks. Larger pelagics, eagle rays, marble rays, and Mola Mola (only during the season) inhabit the deeper levels of the reef.
Bat Cave

Why love it:
The best dive site for diving with bats. Yeah, you got that right, bats.
While this dive site is located in Crystal Bay, we single it out as a separate destination. To reach the Bat Cave, you have to hire a boat in order to overcome the strong current and be safely dropped outside the bay. Then you dive down some 10 meters and another 20 meters to enter the cave.
When you surface in the cave, you will enter a magnificent cavern of calm water, full of spectacular, dramatic light and many, many bats.
We habitually make a stop here on our guided Manta Trips.
Gamat Bay

Why love it:
Gamat Bay is easily reached both from the shore and via a boat ride. Scuba diving is especially rewarding here.
Located in the channel between Nusa Penida and Nusa Ceningan, Gamat Bay features an impressive reef wall that is home to abundant marine life.
You can come across turtles, table corals, and coral bommies typical for the slopes of the wall.
Because of the good light and shallow depth, it is an excellent location for shooting underwater pics.
The shallow main part of the bay is great for snorkeling.
Toyapakeh Wall

Why love it:
For the gentle drift and coral pillars.
Toyapakeh Wall sits in the deep channel between Nusa Penida and Nusa Ceningan. It is famous for impressive coral pillars featuring both hard and soft corals. Expect to see large schools of colourful fishes. Sharks and turtles make an appearance there from time to time. If you are lucky, then you can be rewarded with a Mola Mola encounter during the season.
Sekolah Dasar (SD)

Why love it:
It is Freedive Nusa's home dive site; it is easily reached from the shore and features a gentle drift.
Sekolah Dasar, or SD, is definitely one of the most popular sites for drift dives on Nusa Penida. The speed of the current varies day to day from gentle to quite powerful.
SD site abounds with turtles, giant map puffers, tiny shrimps, and nudibranchs.
Drifting over the corals at SD is our favorite activity after open water sessions during freediving courses.
SD Point

Why love it:
SD point is another nice dive site with amazing corals that offers a comfy drift over the corals within an easy reach from our school.
Marine life and diving conditions at SD Point are similar to those of other North Coast dive sites including SD, Sental and Buyuk.
SD Point has an especially beautiful coral plateau. Stingrays are common guests at SD Point as well as turtles and a variety of coral fishes.
Buyuk


Why love it:
Buyuk fits divers of all levels as the range in depth of the harbor enables divers of all different skill level to see something beautiful.
Buyuk offers a good variety of hard and soft corals living at different depth points between 5m and 20m. Schools of typical reef fish, turtles, and eagle rays are typical guests at this site.
Currents are usually quite gentle at Buyuk, making for a pleasant and safe a drift.