How to get to Nusa Penida
First of all you need to get to Denpasar, the capital of Bali province. The fastest and most popular way to reach Denpasar is by flight. Whether direct flight (many of them operate from Australia, Europe, Asia) or transit (the most popular ones are Kuala Lumpur, Singapore, Bangkok) you will land in Ngurah Rai International airport. If you are coming from western part of Indonesia you can also use ferry from Java and bus\taxi from Gilimanuk harbor, or if you are coming from East Indonesia Lombok\Gili islands you can drop off at Padangbai harbor.
Whichever your way is, you can choose several options how to reach Nusa Penida from Bali mainland.
From Sanur to Nusa Penida
The easiest and the most comfortable way is by speedboat from Sanur harbor (30-40 minutes).
Jetty in Sanur is situated here. It is also the same starting point for speedboats to Nusa Lembongan. These speedboats are much more often than the ones to Nusa Penida and it is important not to mix them up.
Different speedboat companies operate on different piers on Nusa Penida between Sampalan and Toyapakeh. We recommend to check the schedule and book a ticket in advance and come to the pier half an hour before departure. You can contact all companies via WA.
Below you can find the list of transport companies, their schedules and prices. Most speedboats arrive to Toyapakeh village, exception is Mola-Mola Express and Idola – they are coming to Sampalan.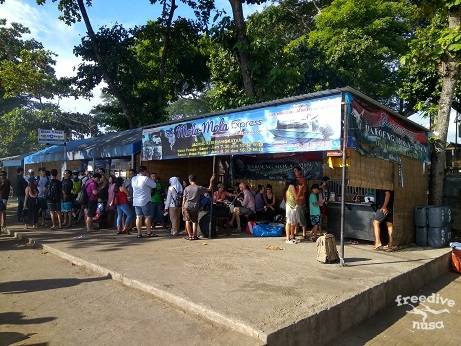 Angel's Billabong Fast Cruise
Price is IDR 150.000 for one way.
Contacts. Sanur:  +62 897-5454-140. Nusa Penida: +62 821-4404-8323.
Sanur — Nusa Penida: 07:30, 08:30, 14:00, 17:20
Nusa Penida — Sanur: 06:30, 07:30, 13:00, 16:20
Semabu Hills Fast Cruises
Price is IDR 150.000 for one way.
Contacts: +62 821-4497-5411.
Sanur — Nusa Penida: 07:30, 08:00, 13:00
Nusa Penida — Sanur: 08:00, 13:30, 16:30
Maruti Express
Price is IDR 125.000 for one way.
Contacts. Sanur: +62 812-4689-2524. Nusa Penida: +62 813-3875-4848
Sanur — Nusa Penida: 07:30, 09:00, 15:00
Nusa Penida — Sanur: 07:30, 12:30, 16:00
Gogun Axe Stone Fast Cruise
Price is IDR 150.000 for one way.
Contacts: +62 813-3975-2533, +62 812-3762-1130
Sanur — Nusa Penida: 08:15, 11:00
Nusa Penida — Sanur: 14:30, 16:30
Ray Fish Speedboat
Price is IDR 175.000 for one way.
Contacts: +62 823-3961-6768
Sanur — Nusa Penida: 08:15
Nusa Penida — Sanur: 16:30
Tanis Fast Cruise
Price is IDR 150.000 for one way.
Contacts: +62 821-4781-7323
Sanur — Nusa Penida: 08:00
Nusa Penida — Sanur: 16:30
From Padanbai to Nusa Penida
Second option is ferry boat from Padangbai for those who want to come to Nusa Penida by their own transport.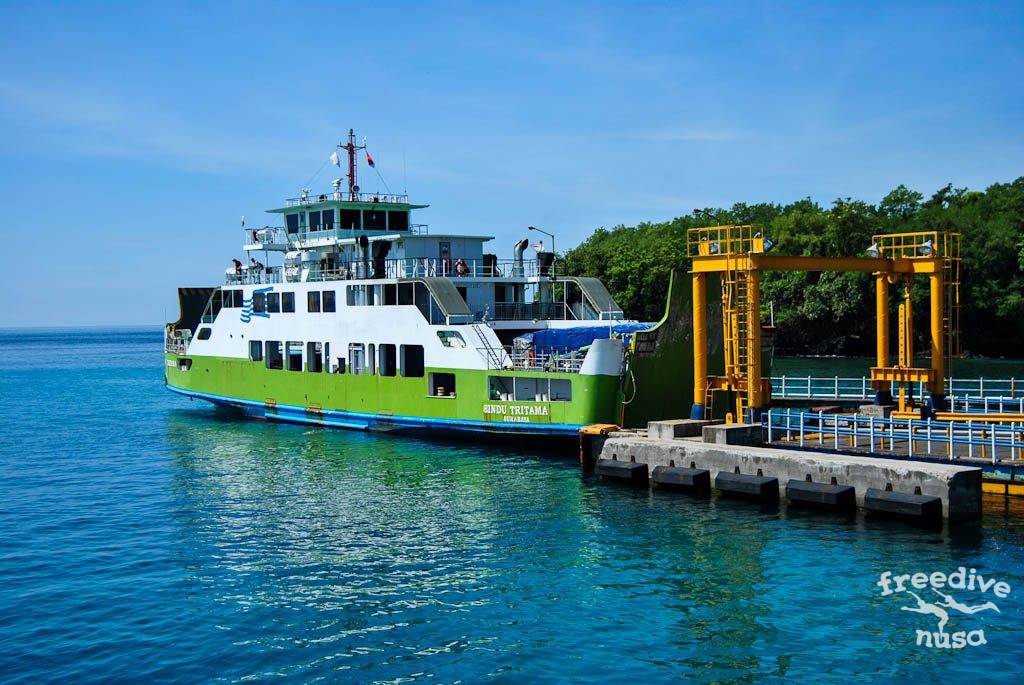 It costs IDR 31.000 per person, 50.000 per motorbike and around 300.000 per car.
First, you need to by ticket for passengers, and then after, passing the control border you pay for transport.
Ferry departs from Padang Bai at 11 AM, and from Nusa Penida at 8 AM. The journey lasts more than hour.
Schedule could be flexible (rather later but could be even earlier) so better to arrive 1 hour if you go by motorbike, and up to 3 hours earlier if you go by car. There is also a chance of a long queue there.
If you want to visit Nusa Penida just for couple of days we don't recomend to choose this option (sometimes you can spent half day for waiting the boat). Fast boats much more reliable.
From Kusamba to Nusa Penida
For those who are moving to Nusa Penida from the North or East of Bali it would be closer to catch a speedboat from Kusamba or Tribuana (villages near Padangbai). Speedboat ride takes around 20-30 minutes only.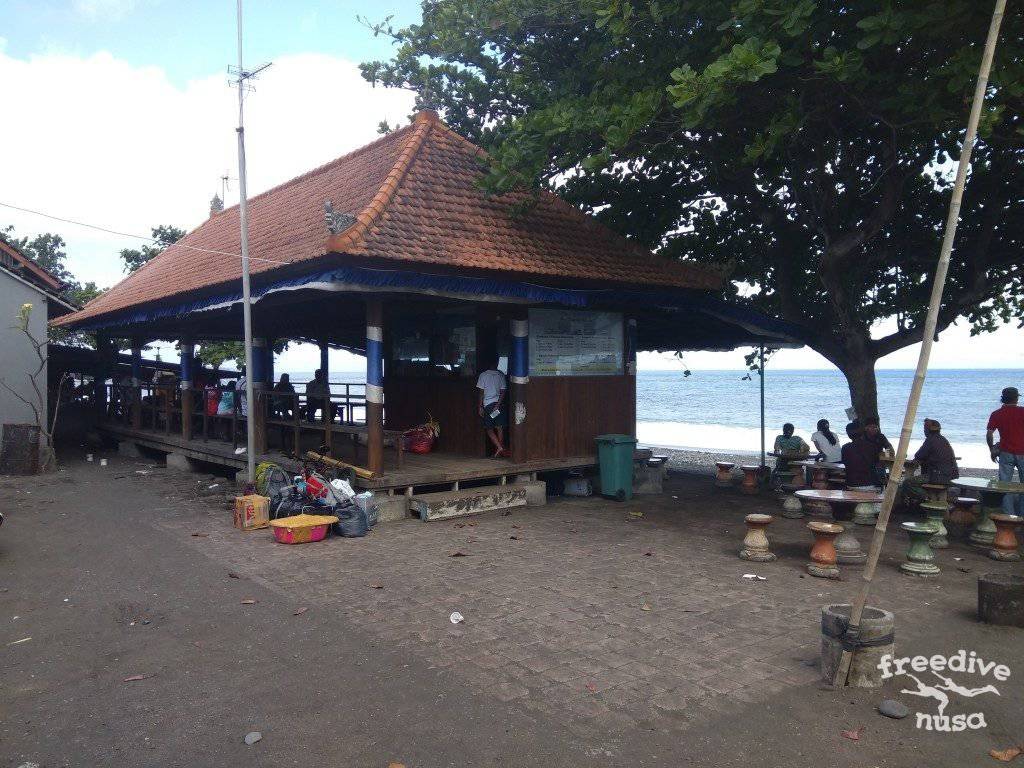 Sekar Jaya
Price is IDR 100.000 for one way.
Contacts. Kusamba: +62 877-5065-2696, +62 852-0555-2276. Nusa Penida: +62 857-3829-7015.
Kusamba — Nusa Penida: 07:15, 08:00, 11:00, 14:00, 16:00
Nusa Penida — Kusamba: 07:00, 08:00, 10:30, 13:30, 15:30
On Nusa Penida pier located in Sampalan.
Gangga Express
Price is IDR 100.000 for one way.
On Nusa Penida company has two piers in Sampalan and Buyuk. Each pier has different schedule.
Contacts. Tribuana: 0819-3626-1294. Sampalan: 0818-0546-4622,0812-3666-2476. Buyuk: 0853-3854-4577.
Kusamba — Nusa Penida: 07:00, 09:00, 12:15, 15:00
Nusa Penida — Kusamba: 06:30, 08:00, 11:00, 13:00
From Gili Islands to Nusa Penida
There are 2 options to get from Gili Islands to Nusa Penida:
1. Cheap and slow: from Gili islands by small boat to Lombok, from Lombok by ferry boat to Padangbai on Bali (~5 hours), by ferry boat from Padangbai to Nusa Penida.
2. Fast and more expensive by speedboat. There are few speedboat companies which are going from Gili to Nusa Penida. However, most of them are going same way through Padangbai.
Golden Queen Fast Boat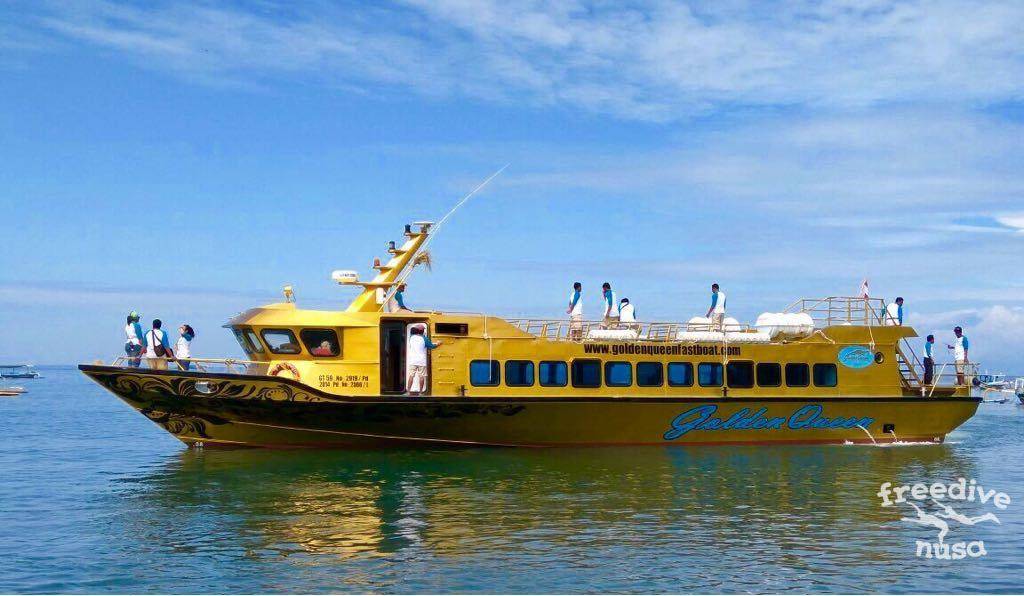 Golden queen has 2 options: they have straight boat from Gili to Nusa Penida or if they have not enough customers, boat is going through Bali. You may check what route they will use one day before the trip. But, anyway, it is the fastest option. If it is direct boat, it is going from Nusa Penida to Gili Trawangan, then to Gili Air, Lombok and back to Nusa Penida.
Nusa Penida – Gili: 10.00
Gili Trawangan – Nusa Penida: 12.30
You can book your ticket on gilitransfers.com for  IDR 400.000.
From Nusa Lembongan to Nusa Penida
You can easily get to Nusa Penida from Lembongan if you decide to visit this island.
There are regular boats between the islands which departure from the yellow bridge between Lembongan and Ceningan.
Price for one way is IDR 50.000. Public boats are available from 6:30 till 12 o'clock.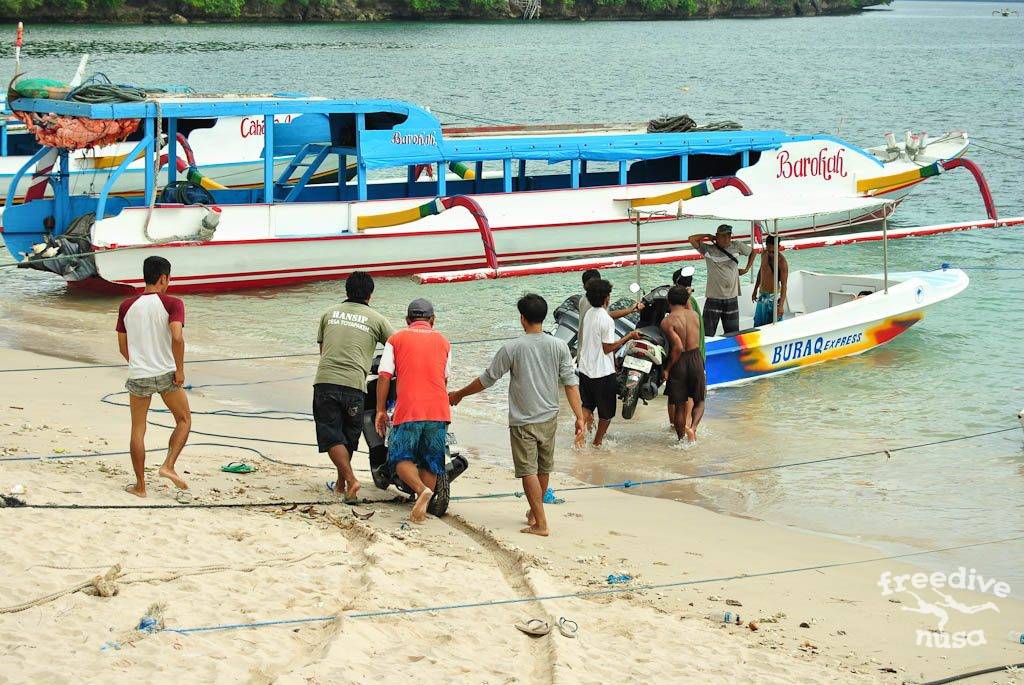 The transport from any jetty on Nusa Penida to our school will cost you IDR 20.000-30.000 by mototaxi or IDR 100.000 by car. It will take you in no more than 5-10 minutes. You should ask the driver to drop you near Jero Rawa Homestay or Ring Sameton Hotel.
You can also rent a motorbike right on the pier. Rental price is IDR 70.000 per day.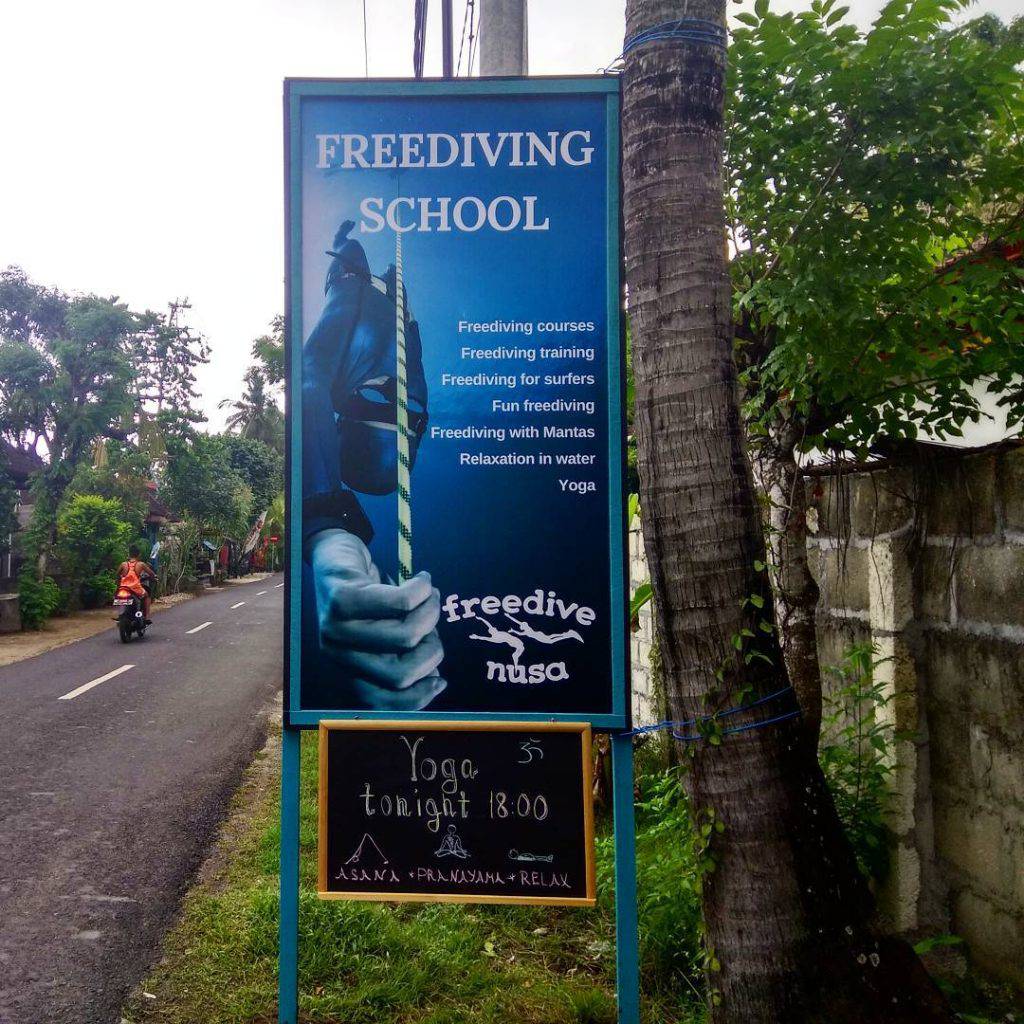 See you on Nusa Penida!
FAQ
What is the difference between Freediving and Scuba Diving?
Freediving, as the name suggests, is diving with complete freedom. A properly trained freediver can ascend and descend as quickly as they like since there are no restrictions. In freediving all you really need is a mask, fins, and a single breath for you to go anytime, anywhere, underwater.
On the other hand, scuba has a lot of complex theory and equipment elements you must know about before you can enjoy it. In scuba diving you must follow a rigorous schedule to go up and down due to the heavy tank you are restricted in how fast you can move and where you can go.
But definitely you can stay longer under the water while exploring the underwater world and at the same time you need less physical requirements.
So, freediving teaches you mostly how to operate and control your body under the water while holding your breath. Scuba diving teaches you how to use SCUBA equipment and breath under water safely.
This is the main difference between the two.
What's the difference between snorkeling and freediving?
Although recreational freediving and snorkeling are very similar, there are some differences between these two activities. Snorkeling is the act of floating on the surface while using a mask to see underwater, and having a snorkel to breathe while keeping one's face submerged.
Freediving is allowing you to dive deep under the water and interact with the environment and not just staring at it from the surface. With freediving, you will learn advanced breathing techniques, and you will learn to move efficiently underwater through the use of efficient equipment.
Freediving will give you much more freedom and excitement while exploring underwater world!
What should I bring with me to the island?
It would be beneficial to bring your own freediving equipment if you have it. Fins, mask, snorkel, belt, and 3 mm wet suit would be a good start. No need to carry weights. If you do not have the equipment, we will provide you as the equipment is included in the cost of all courses.
Also we have a small shop in the school, so you can buy freediving equipment from us right on the island.
Comfortable shoes (runners) for exploring the island, sunglasses and sun cream (take the strongest one with protection level 50) to feel yourself comfortable under the tropical sun, photo and video cameras to capture all the beauty of the island would be very useful.