Manta Trip around Nusa Penida
Join us for an underwater adventure and experience the graceful Manta Rays around Nusa Penida.
On this half day trip we will bring you to three different dive sites. We will meet around 7:30am at Freedive Nusa to take our equipment and then head to Toyapakeh from where the boat is leaving and will be back around midday.
Dive Site #1. Swimming with Manta Rays at Manta Bay or Manta Point
First dive site will be Manta Bay or Manta Bay where you can snorkel or freedive with Manta Rays. Which of these two dive sites we go depends on the conditions on that day as both are on the exposed site of Nusa Penida where strong currents and swell can be prevailing.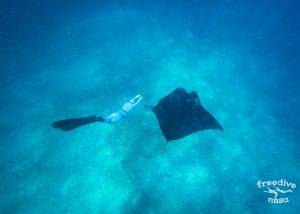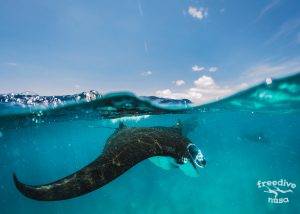 Reef Manta Rays can usually be seen right from the surface as they feed on plankton that has been pushed into the bays by the currents. At Manta Point it is possible to experience Giant Manta Rays which can reach up to 6 meters of wingspan and around Nusa Penida we usually see them about 3 to 4 meters in size.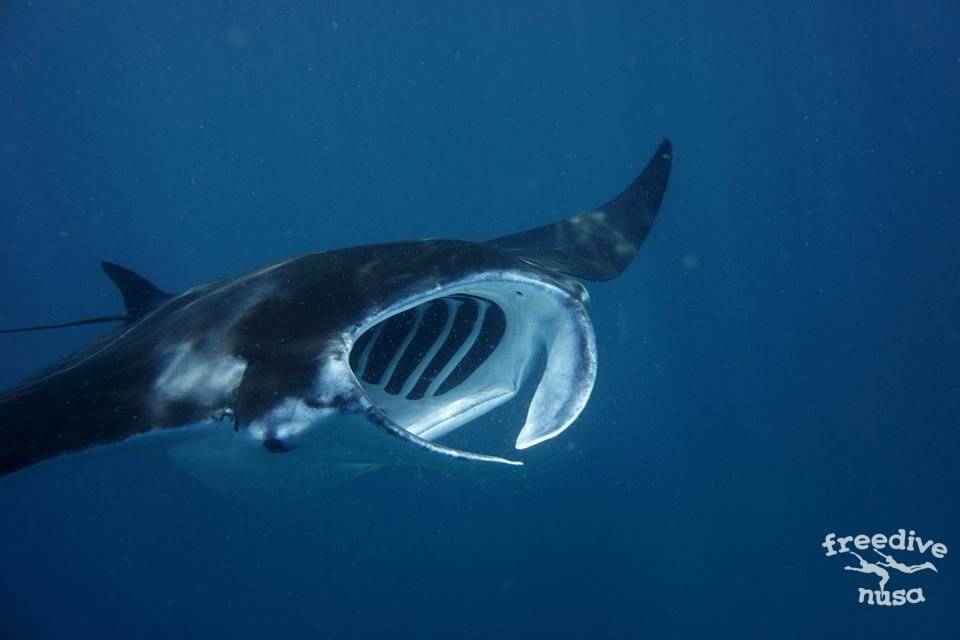 As we are going out into nature we can not guarantee to see Manta Rays, but usually have a hight chance.
Dive Site #2. Experience beautiful Coral Reef at Crystal Bay or Gamat Bay
Our second stop will be at a reef snorkeling site. Either Crystal Bay or Gamat Bay which both present an abundance of colorful corals and reef fish. And if you are lucky a turtle, mantis shrimp or small catshark might be around.
For experienced Freedivers we also offer to freedive into a cave through an underwater entrance and being amazed by hundreds of bats that call this cave their home.
Dive Site #3. Buddha Temple
Our last stop will be at Buddha Point where an underwater Buddha statue has been placed at about 5m depth an can easily be seen from the surface. For Freedivers it is an easy dive down to take some beautiful underwater pictures.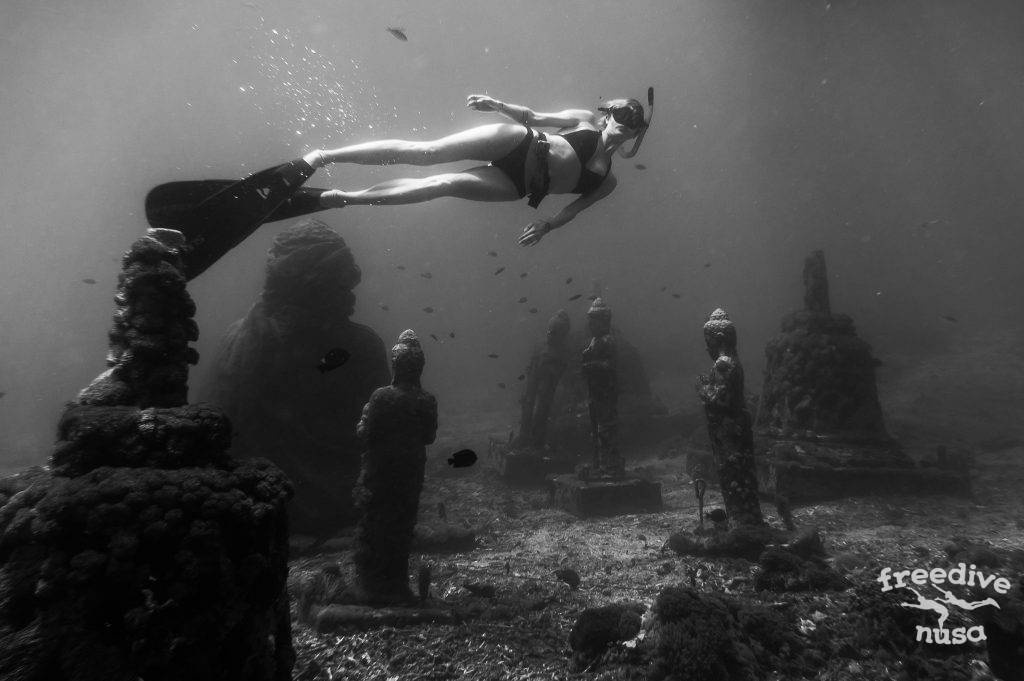 Swimming with Manta Rays will be an amazing underwater experience that you will remember!
We can organize private charters, group trips and freediving trips. On these trips we will provide a local guide who is a professional freediving instructor for additional in water safety and knowledge about dive sites and marine life.
Price: USD 35

Duration: 7:30 am to midday
Included:
Boat ride

Equipment (mask, snorkel, fins, wetsuit, weight belt)

Life vest
What to bring:
Swimming gear

Underwater camera

Towel

Sunscreen / Hat / Sunglasses

Water bottle
Due to strong sea conditions like big swells, strong current or stormy weather the trip can be cancelled with short notice. In this case the trip can be rescheduled for another day or full refund will be given.
Customer cancellation with full refund is possible up to 2 days in advance. After that no refund will be given.
Feel free to contact us to book your trip or to ask any questions.